MOSCOW (Sputnik) — The UN World Food Programme (WFP) launched a new emergency food operation in Yemen to provide immediate aid for almost nine million people facing famine in the country, the agency announced on Tuesday.
"We have to secure urgent resources to meet the needs of all 9 million people who are severely food insecure in Yemen as well as the millions of malnourished children and women. Until we are able to do this, we have to spread out what we have to ensure that we are helping the people who are at the most immediate risk of starvation," WFP Representative and Country Director in Yemen Stephen Anderson said, as cited in the WFP's statement.
According to the statement, the new program will cost up to $1.2 billion over one year and will allow WFP to provide food assistance to some seven million people classified as "severely food insecure," as well as nutritional support to 2.2 million children.
"The situation is getting close to a breaking point in Yemen with unprecedented levels of hunger and food insecurity. Millions of people can no longer survive without urgent food assistance. We are in a race against time to save lives and prevent a full-scale famine unfolding in the country, but we urgently need resources to do this," Anderson added.
Within the framework of new plan, in April-May and "until WFP can secure the funds that it needs," the organization will prioritize the 6.7 million people who in the most urgent need of food assistance, of which some 2.5 million will be provided with a famine prevention aid package.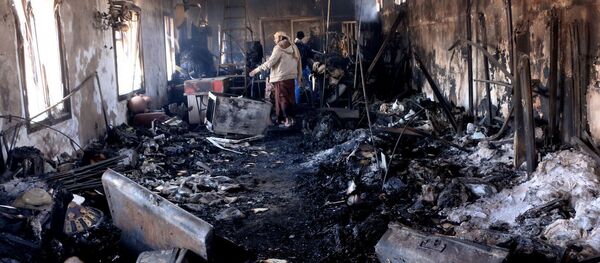 According to the latest data from the WFP's Emergency Food Security and Nutrition Assessment (EFSNA), 17.1 million Yemenis experience food insecurity and an estimated 7.3 million people are classified as severely food insecure. The UN Refugee Agency (UNHCR) warned in a statement on Tuesday of the growing risk of mass deaths caused by starvation in the country.
Yemen's civil war between the internationally recognized Aden-based government of President Abd Rabbuh Mansur Hadi and the Houthi movement backed by army units loyal to former President Ali Abdullah Saleh erupted in March 2015. According to the UN reports, over 50,000 civilians have been killed or injured since the beginning of the conflict, including thousands of children.