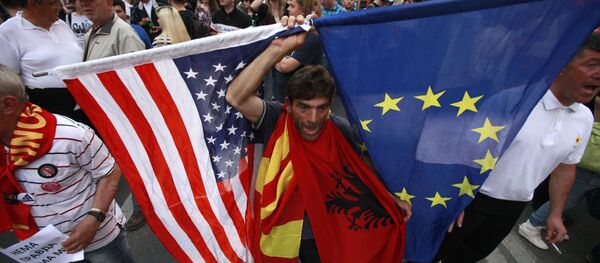 "We consider the line to include Montenegro in NATO deeply mistaken, contrary to the fundamental interests of the people of this country, which is detrimental to stability in the Balkans and in Europe as a whole," the ministry said.

Last month, US senators voted 97-2 on Washington's Senate floor in favor of Montenegro's membership of the 28-member military alliance. This marked an important step for the Balkan country's inclusion into the international defense organization.
"We consider this step as a manifestation of inertia in Washington's policy, reflecting the logic of confrontation on the European continent, creating new dividing lines," the ministry said in a statement on its website.
Montenegro was invited to join NATO on December 2, 2015, in the alliance's first expansion into Eastern Europe in six years. Podgorica accepted the invitation the following day, an act which triggered protests in the Balkan nation. In May 2016, the Alliance members signed a protocol on Podgorica's accession to be ratified by all NATO member states before becoming a full-fledged member.
In late January, the country's prime minister said Montenegro expected to become a member of NATO before the alliance's next summit in May, despite the opposition's calls to hold a referendum on the issue.