"By 2020 we are going to make sure that all our machine tools are ready to turn out a 100-percent Russian-made rifle," Semizorov said, adding that the first batch of the new sniper rifles, aptly called Tochnost (Accuracy), will be supplied to the Federal Guard Service (FGS) this year.
The new model is slated to become the main sniper weapon used by the Russian military and intelligence services.
The Tochnost, a spinoff of the T-5000 rifle, uses conventional and armor-piercing rounds and is on par with the world's best mass-produced sniper rifles available today.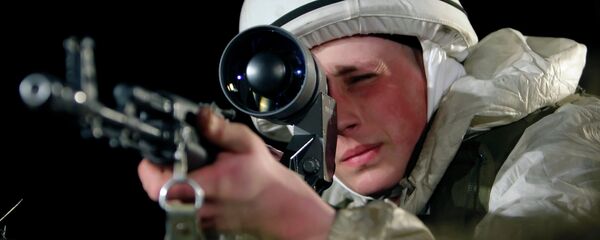 6 November 2016, 09:41 GMT
In an interview with Radio Sputnik, Mikhail Degtyarev, the editor-in-chief of the journal "Kalashnikov. Arms & Ammo," said that the designers of the new rifle worked in close contact with representatives of the military and special services.
"While the FGS snipers gave the Tochnost their thumbs up, the military representatives were more finicky about the origin of the materials and parts it is made of. It is with these tougher demands in mind that the designers are now making sure that the Tochnost is a 100-percent Russian-made weapon, Degtyarev added.
"The new sniper rifle gives credit to Russian arms and the Russian armed forces. Even though it is not going to phase out the sniper rifles currently in use, the Tochnost is a real game changer in the field of military sharpshooting," Mikhail Degtyarev said.
The Tochnost sniper rifle surpasses its predecessor in several key characteristics. It has a shooting range of over 2 kilometers, and its pinpoint accuracy ensures minimum deviation while maintaining distance.
Low recoil, a convenient trigger mechanism, a special sight and, most importantly, a specially primed rifle barrel all ensure excellent accuracy.
Never miss a story again — sign up to our Telegram channel and we'll keep you up to speed!