The Vinson can hoist as many as 90 fixed wing aircraft and choppers, Fox News notes. 
Many consider Carrier Strike Group One's activities in the Korean Peninsula a show of force to let Pyongyang know what it would be facing should it conduct some sort of ballistic missile or nuclear launch – an event widely anticipated as North Korea approaches a few key anniversaries this month.  
"Japan wants to dispatch several destroyers as the Carl Vinson enters the East China Sea," an official told Reuters. The Japanese MSDF could conduct helicopter and communication drills with the US Navy's first carrier strike group, the source added.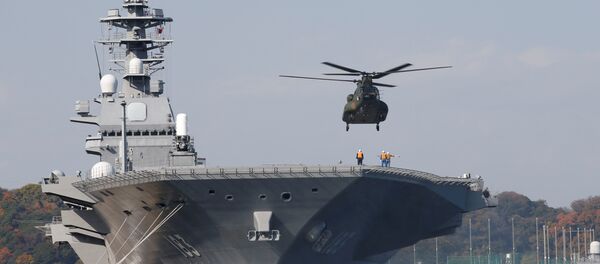 On Tuesday, though, Defense Secretary James Mattis used a low-key tone to discuss the Vinson's movements. "She's stationed there in the West Pacific region for a reason, she operates freely up and down the Pacific," he said, "and she's just on her way up there because that's where we thought it was most prudent to have her at this time."
US President Donald Trump expressed hope after meeting with Chinese President Xi Jinping that Beijing could help "solve the North Korea problem" during a news conference on Wednesday with NATO Secretary General Jens Stoltenberg. Specifically, he cited Beijing's decision to cease imports of coal from North Korea as a sign of Beijing's support for international efforts to reign in the rogue nuclear state. 
What's more, Beijing-sponsored news outlet the Global Times ran an op-ed on April 12 indicating "If the North makes another provocative move this month, the Chinese society will be willing to see the UNSC adopt severe restrictive measures that have never been seen before."
Trump tweeted on Tuesday that Pyongyang was "looking for trouble." On Wednesday morning, he said that he had a "very good call" with Xi the night before "concerning the menace of North Korea."