"Tensions have risen," Wang said in Friday's joint news conference with French Minister of Foreign Affairs Jean-Marc Ayrault. "One has the feeling that a conflict could break out at any moment," he added.
His tone made it sounded like chaos – potentially nuclear chaos – in the Korean Peninsula is more a matter of fate than of chance. 
As tensions mount in the Korean Peninsula amidst speculation that North Korea could launch its sixth nuclear test at any time, Beijing is standing firm in its posture to the West and other non-North Korean allies that whoever triggers regional mayhem will have to pay the price. 
US satellite imagery hints at the possibility of an "underground nuclear test at any time," the South China Morning Post reported. 
Tokyo has considered striking first if a nuclear threat looms, as Pyongyang so far has not been persuaded to stop firing missiles into the Sea of Japan. "If bombers attacked us or warships bombarded us, we would fire back," said former Japanese Defense Minister Itsunori Onodera. "Striking a country lobbing missiles at us is no different," Onodera said, according to a March 8 Sputnik report.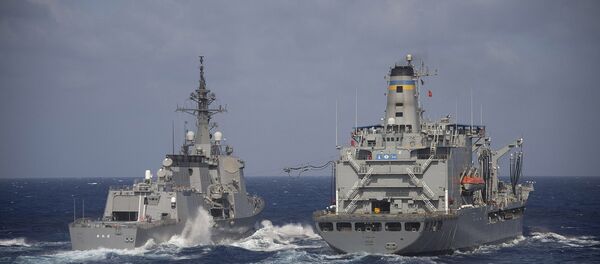 Just one day ago, Sputnik reported that Japanese forces were connecting with the US First Carrier Strike Group in the West Pacific to conduct joint drills. "She's just on her way up there because that's where we thought it was most prudent to have her at this time," US Defense Secretary James Mattis said of the group's USS Carl Vinson, the nuclear-powered carrier that forms the nucleus of the group, earlier in the week. 
Beijing has remained somewhat coy on the matter. Analysts tell Sputnik that Beijing is likely playing both sides to best position itself in the international landscape. US President Donald Trump claimed to have had a successful series of meetings with Chinese President Xi Jinping last weekend, and Friday morning Air China suspended flights between North Korea and China. The suspension of service is effective Monday. The airline cited lackluster ticket sales.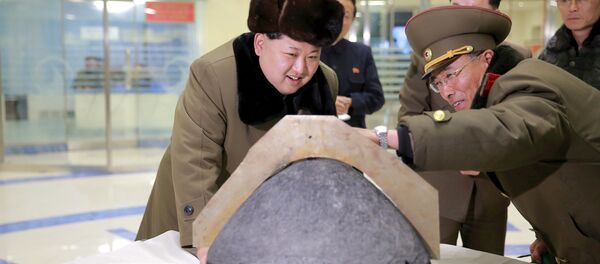 Further, when Trump and Xi spoke via phone this week, the Chinese leader called for a peaceful resolution, the South China Morning Post added. Trump says Washington will "solve" the North Korea problem whether Beijing is onboard or not. During a news conference with NATO Secretary General Jens Stoltenberg, Trump styled his position in an unmistakably Trump fashion: The US will "go it alone, but going it alone means going it with other nations."
A Korean studies analyst at Zhejiang University in Hangzhou, China, told the South China Morning Post, "all three parties – North Korea, South Korea, and the US have direct responsibility – the US in particular for its recent military drills and aircraft carrier deployment."