MOSCOW (Sputnik) — The leader of far-right National Front party added that her rival in the presidential race, former Prime Minister Francois Fillon, had done nothing about this threat, while another major contender, former Economy Minister Emmanuel Macron, was not saying anything about the issue.
"There are 10,000 people with a 'Fiche S' status linked to the Islamist fundamentalists [in France]… On the next day after I am elected, I would proceed with expelling 'Fiche S' foreigners from our country and I would trigger the procedure of stripping the nationality off of those who have a dual citizenship," Le Pen told France Info broadcaster.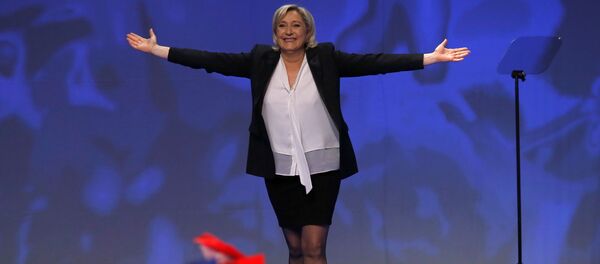 Fiche S is one of the "wanted list" categories used by the French security forces and it denotes those who pose threat to the state security.
Le Pen also promised to shut down all Salafist mosques preaching against French values in the country in case she becomes president.
"We must close down the Salafist mosques, where hate toward France is preached, and secret schools where they teach behavior incompatible with the French way of life," Le Pen told Poland's Rzeczpospolita newspaper.
She went on vowing to expel all foreigners suspected of terrorist ties from France.
"I plan to undertake all necessary measures in regard to all those suspected of having ties with terror, expel them from France if they are foreigners or strip them of French citizenship if they have double citizenship to have the chance to expel them after that, or carefully monitor them if they are French citizens," the candidate said.
France has been officially in the state of emergency since after the terrorist attacks in Paris in 2015.
The first round of the presidential election will take place on April 23, while the run-off between the top two contenders is scheduled for May 7.