MOSCOW (Sputnik) — Earlier in the day, Australian media reported that local residents and navy officers of Manus Island attacked asylum seekers in Australia's offshore refugee camps by throwing stones and firing guns, causing no casualties.
"Today's shooting serves as just another example that Manus island detention facility is not a safe place for asylum seekers. More incidences like this are inevitable unless the refugees and asylum seekers are relocated to safety," Anna Neistat, the Amnesty International's senior director for research said.
She urged to take all necessary measures, including adequate medical care to those who may have received injuries, to ensure the immediate well-being of refugees, stressing that those "trapped" on Manus Island and on Nauru must be "brought to Australia or any other country where their rights and safety can be assured."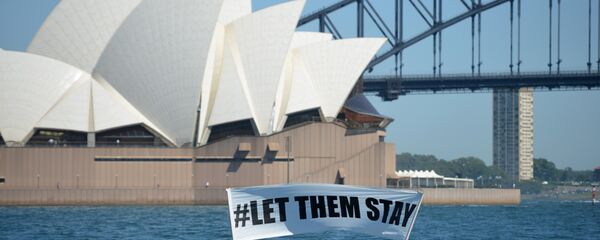 13 February 2017, 16:19 GMT
A prior attack on refugees on Manus Island took place in February 2014. The high-profile killing of Iranian refugee Reza Barati in the brutal attack brought thousands of people across Australia into the streets to commemorate his death.
Under the July 2013 regional resettlement arrangement between Australia and Papua New Guinea, also known as the PNG solution, asylum seekers coming to Australia by boat without a visa are to be settled in Papua New Guinea and considered ineligible for resettlement in Australia.
There are currently 861 refugees living on Manus Island and 380 refugees on Nauru Island, according to data released in January by the Department of Immigration and Border Protection of Australia's government.