ANKARA (Sputnik) – Earlier in the day, Nationalist Movement Party (MHP) leader Devlet Bahceli, who was key to making the upcoming referendum on constitutional changes possible by backing it along with the ruling Justice and Development Party (AKP) early this year, called on the government to make public assurances that the proposed constitutional changes would not shift Turkey to a state-based federal system.
"Those, who can invent nothing, say now that Turkey will reject the unitary system. In other words, there would be a central government and many small governments … How can it be? If such [federal] system emerges, I will immediately step down as the party's head and prime minister," Yildirim said at a meeting with non-governmental organizations in Ankara.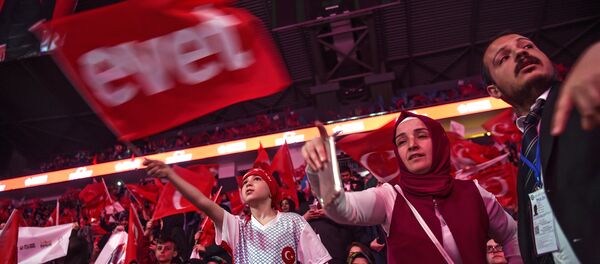 He pointed out that a federal system would be a sensitive option for Turkey, given that the country has faced separatist movements in its southeastern regions.
The federalism row came after one of Turkish President Recep Tayyip Erdogan's advisers published an article earlier this month arguing for local administrative reform to get rid of the double system of elected mayors and appointed governors. The article was interpreted as a call for federalism by the media. This stirred the right-wing MHP, which said its supporters would likely vote "no" if Sunday's referendum led to a disintegration of the unitary Turkish state.
On January 21, the Turkish parliament approved constitutional amendments that would strengthen the presidential powers over the legislature and the judiciary. If approved by the referendum, the president will also be able to remain the head of the political party he represents, which is not allowed by the current legislation.
The Turkish referendum on constitutional changes is scheduled for April 16.