The explosion hit the Rashidin area on Aleppo's outskirts. The bus was waiting for entering the city of Aleppo.
According to Al-Ikhbariyah television channel, the explosion left 22 people killed and some 50 injured.
According to a Sputnik source in Aleppo, the blast supposedly was caused by a suicide attacker who detonated an explosive device.
"A suicide bomber blew himself up in car in Rashidin near a petrol station, where buses with the Fua and Kefraya residents stopped. There are dead and wounded," the source said.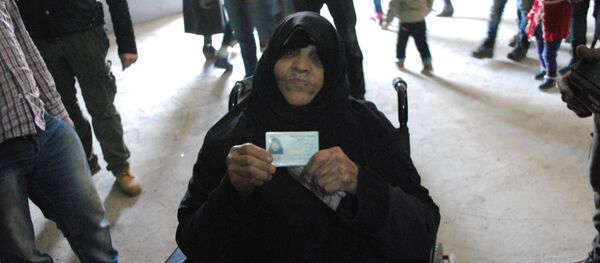 3 January 2017, 15:27 GMT
The evacuation of Fua and Kefraya residents is a part of a deal between the Syrian government and militants.
On Friday, a convoy of 75 buses arrived in Aleppo, evacuating some 5 thousand people from the besieged cities.
Fua and Kefraya are the only government-controlled enclave in Idlib's vast militant-held area. The towns of some 20,000 people have been under siege since 2013. The humanitarian situation remains dire, with a lack of food and basic necessities.
The humanitarian situation in the towns of Fua and Kefraya has been deteriorating given that the aid convoys had been prevented by terror groups operating in Syria from reaching the towns.