A similar request has been made for her fellow FN member Marie-Christine Boutonnet.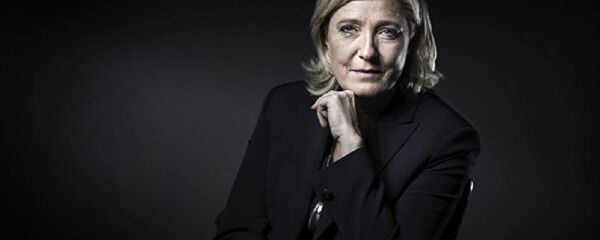 In February Le Pen refused to be questioned by French police as part of an
ongoing probe into the alleged misuse of EU funds
, citing her immunity as a member of the European Parliament.
The French judges' request, signed on March 29 and filed with the prosecutor's office and the justice ministry, is unlikely to be approved by European lawmakers before the election.
In an interview with Francetvinfo on Friday, Marine Le Pen, a leading candidate in the two-round presidential election on April 23 and May 7, said that she was not surprised by the prosecutors' request, calling it "a normal procedure."
Le Pen's campaign adviser, Besier Mayor Robert Menard, dismissed the request as an attempt to undermine her presidential bid.
"After what happened before, I'm not at all surprised that the judges interfere. This is part of the pre-election context. The investigation was resumed two years after it started, right before the election. This was clearly done to harm Marine Le Pen and her party," Menard told Sputnik France.
"I'm not saying that the National Front is above criticism in this process, but unlike the case with Francois Fillon, there is not even a hint here about any attempts at personal enrichment [by Marine Le Pen]," he added.
Juliane Pinsard, National Secretary of the Union of Judicial Workers of France, said that the main idea of parliamentary immunity is to rule out any political or other pressure on MPs as they perform their legislative duties.
"If Marine Le Pen is stripped of her parliamentary immunity she could be forced to face the investigators and answer their questions," she told Sputnik France.
The request to lift Le Pen's parliamentary immunity was  transmitted to the European parliament in late March.
When asked why it had taken the media so long to report this, Juliane Pinsard said that it was due to the so-called "investigatory privilege" whereby any information about an ongoing investigation is subject to disclosure only within the discretion of the governmental authority.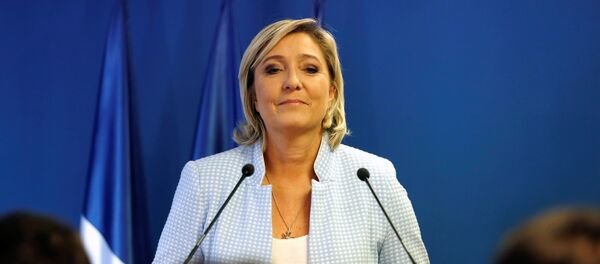 Paris' prosecutor's office launched an investigation in 2015 to look into allegations that EU parliamentary assistants were fraudulently paid for their services with EU funds while working for FN. In particular, Le Pen's personal assistant had reportedly received about 340,000 euros ($360,000) of EU money.
The request for waiving Le Pen's parliamentary immunity was filed in the European Parliament in late March, The move followed Le Pen's refusal in late February to appear for questioning in connection with an investigation into FN assistants.
On March 2, the EU Parliament's legal affairs committee voted in favor of waiving Marine Le Pen's parliamentary immunity in another investigation, over tweeting gruesome images of Islamic State violence.
The first round of the French presidential election is slated for April 23, while the run-off is expected to take place on May 7.
According to recent polls, centrist candidate Emmanuel Macron and National Front hopeful Marine Le Pen have equal chances to win the first round, with voting intentions figures for both of them varying from 24 to 26 percent.
The Republicans party nominee Francois Fillon is projected to receive 20 percent of votes. In the run-off, Le Pen is set to lose both to Macron and Fillon.