HMEIMIM (Sputnik) – A total of 8 humanitarian events were held in three Syrian provinces over 24 hours.
"Within [the] last 24 hours, the Russian Centre for reconciliation of opposing sides has held 8 humanitarian events in the Aleppo (6), Damascus (1), and Latakia (1) provinces," the bulletin, posted by the Russian Defense Ministry on Saturday, says.
According to the statement, Aleppo residents have received 2,500 hot meal portions and 150 food sets, while Damascus and Latakia province residents received 700 food sets, as well as office supplies and medical equipment.
"Within [the] last 24 hours, 3,350 civilians have received humanitarian aid. Total weight of humanitarian aid has reached 4.5 [metric] tons," the Russian reconciliation center said.
Russian aircraft have helped deliver over 19 metric tons of UN food aid to the Deir ez-Zor area in the past 24 hours using parachute platform, the center added.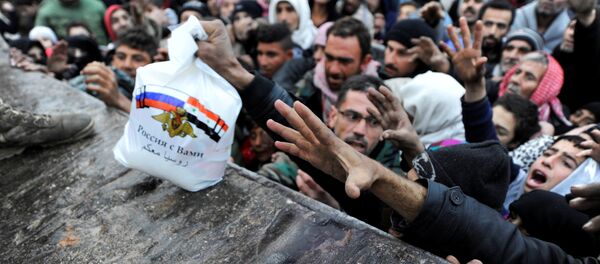 On Thursday, Russian Deputy Foreign Minister Gennady Gatilov told Sputnik that out of the billions of dollars of financial aid announced for Syria at the donors conferences in Brussels, London and Kuwait, only a very small amount was used in practice for humanitarian aid deliveries to Syrians.
Russia has been carrying out regular humanitarian aid deliveries to Syria, where people are suffering from the consequences of ongoing fighting between government forces and terrorists, such as Daesh group, banned in Russia.
According to Gatilov, Russia has been calling for humanitarian aid to be evenly distributed among the entire Syrian population, without differentiation between areas controlled by the government and those under the control of other groups.