During an interview with BTV, a Chinese military, expert Xu Guangyu made his forecast suggesting that the third aircraft carrier may be nuclear-powered.
"The first domestically built carrier is likely to be like the Liaoning [China's first aircraft carrier]. It will be conventionally powered and use a ski-jump take-off, whereas the second one is likely to use a catapult take-off… The third one, however, will benefit from major breakthroughs and may even be nuclear-powered," China Daily newspaper reported Xu as saying.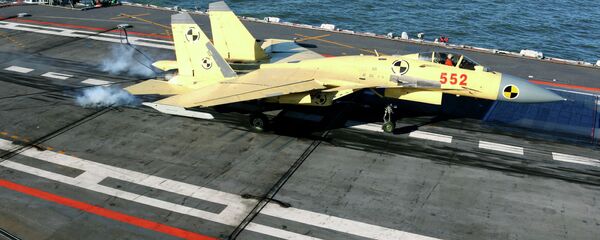 Experts further predict that the third China-made carrier may even have the capacity for an electromagnetic launch.
"The development of Chinese aircraft carriers is a slow but steady process. From platform construction to personnel training, it's all gradual," Xu said.
Earlier it was reported that the second aircraft carrier which is country's first domestically built carrier will be able to dock from 28 to 36 units of Jian-15 fighters (J-15).
The Chinese media reported that the aircraft carrier could be launched in late April 2017. According to some experts, the likely date is April 23 which is the anniversary date of the founding of the PLA Navy.
Currently, the Chinese Navy arsenal consists of the Liaoning aircraft carrier, created on the basis of the Soviet cruiser Varyag. Liaoning can base 24 J-15 fighters.
Liaoning is a Type 001 class vessel. The first carrier was rebuilt out of the Soviet aircraft cruiser Varyag in early 2000s, with the first sea trial taking place in 2011. In September 2012, Liaoning was commissioned into the PLA Navy.
In late December 2015, the Chinese Defense Ministry announced plans to construct a new Liaoning aircraft carrier built by China itself.
Never miss a story again — sign up to our Telegram channel and we'll keep you up to speed!