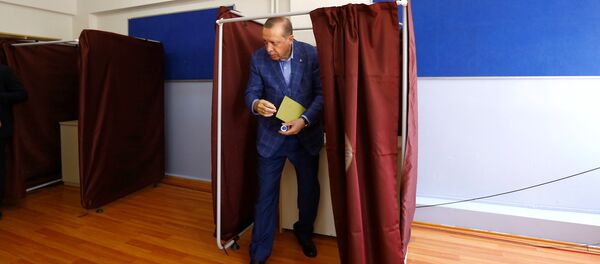 ANKARA (Sputnik) — The gap between the supporters and opponents of the constitutional changes in Turkey narrows to three percent, while "yes" votes leading with 51.5 percent, according to preliminary results after 97 percent of votes processed, local media reported.
"No" votes are preliminary receiving 48.5 percent, according to the Anadolu news agency, which is authorized to publish the results as well as the Supreme Electoral Council of Turkey.
As the votes are being processed, the number of supporters is decreasing, since there were 63.4 percent of "yes" votes after 24 percent of ballots counted and 52.5 percent of "yes" votes after 90 percent processed.
Supporters of the constitutional amendments expanding the powers of president are winning in 48 out of 81 Turkish provinces. Residents of the south-western Turkish provinces inhabited mainly by Kurds voted against the proposed changes.
On January 21, the Turkish parliament approved constitutional amendments that would strengthen the presidential powers over the legislature and the judiciary. If approved by the referendum, the president will also be able to remain the head of the political party he represents, which is not allowed by the current legislation. The decision was criticized by opposition parties as a power grab attempt by the president.