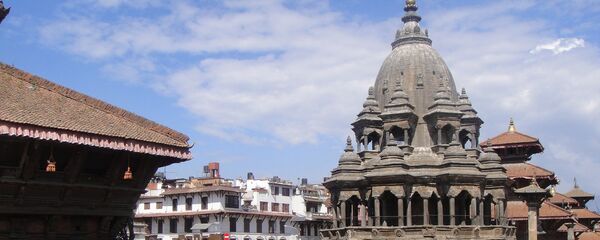 New Delhi (Sputnik)
–
President Bhandari's visit is likely to strengthen the bilateral ties between India and Nepal which are far from smooth as some sections of the Nepalese people blame the Indian government for the prevailing political instability in the country.
The Nepalese President will be a guest of Indian President Pranab Mukherjee and will be staying in the Rashtrapati Bhavan. She is leading a 33-member delegation.
During her visit, President Bhandari will meet President Mukherjee, Vice-President Hamid Ansari, Prime Minister Narendra Modi, External Affairs Minister Sushma Swaraj and Home Minister Rajnath Singh. She will also visit the famous Jagannath Temple in Puri in the state of Odisha and Dwarka and Somnath temples in Gujarat.
"A high-level delegation comprising several ministers, Members of Parliament and senior officials will be accompanying her. Her visit will reflect the priority that India attaches to further strengthening the age-old and unique partnership with Nepal, shared cultural and historical linkages and strong people-to-people relationship," Sudhakar Dalela, Joint Secretary in the Ministry of External Affairs, told the media.
Presently, the main focus of India is to strengthen the connectivity between the two countries as well as creating energy infrastructure.
"We have maintained our focus on the implementation of ongoing connectivity and development projects such as terai roads, cross-border rail line linkages, development of integrated check posts on the border, cross-border oil pipeline and cross-border transmission lines," Dalela said.
Though President Bhandari was scheduled to visit India in May, 2106, her visit was canceled due to the political turmoil that led to the resignation of then Prime Minister Khadga Prasad Oli.
India and Nepal have had age-old relations due to physical and cultural proximity but New Delhi has been wary of the increasing Chinese influence in Nepal in recent times. In fact, the Indian government has expressed its displeasure with Nepal, time and again on this. Nepal has assured that India is its strategic ally and the Nepal-China relations are only commercial.
Never miss a story again — sign up to our Telegram channel and we'll keep you up to speed!