TOKYO (Sputnik) — Three US aircraft carriers, USS Carl Vinson, USS Ronald Reagan and USS Nimitz, will enter the Sea of Japan next week, Yonhap News Agency reported, citing a South Korean government source.
Washington and Seoul are discussing joint drills, which will include the three aircraft carriers, with USS Carl Vinson expected to enter the Sea of Japan by April 25 and other ships joining it, according to the report.
On Sunday night, South Korean and US military reported registering what they believed to be a failed missile test by Pyongyang.
On Friday, the North Korean general staff threatened to destroy the US vessels near the Korean peninsula in case of US aggression.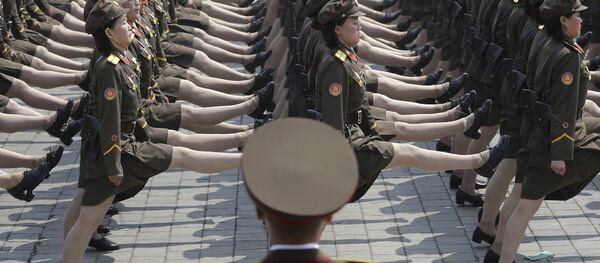 USS Carl Vinson, surrounded by a fleet of US warships, was sent by Washington toward the Korean Peninsula in the beginning of April.
On Sunday, Pyongyang supposedly launched an unidentified projectile, but the test appeared to have failed. South Korea's Joint Chiefs of Staff (JCS) stated that the attempted launch was conducted from the area near North Korea's eastern port city of Sinpo, but likely ended in a failure.
North Korea has carried out several missile test launches this year in violation of UN resolutions. Last year, Pyongyang carried out two nuclear tests and over two dozen of test launches using ballistic missile technology.
North Korea declared itself a nuclear power in 2005. The United States, Japan and South Korea, as well as Russia and China, took part in talks with North Korea on the denuclearization of the Korean peninsula between 2003 and 2009, when Pyongyang withdrew from the talks.
Never miss a story again — sign up to our Telegram channel and we'll keep you up to speed!