The Qaher has undergone a slew of upgrades since 2013, according to multiple reports. The latest iteration of the stealth fighter has two engines, like the F-22 Raptor. The F-35, by comparison, is a single-engine jet. The 2013 version of the F-313 had one engine.
Showing off the F-313 is considered by some analysts to be a way for Iranian Defense Minister Brig. Gen. Hossein Dehqan to display how far the country's defense capabilities have advanced since he assumed the post in 2015. Iranian President Hassan Rouhani visited an exhibition this weekend to observe new UAVs, anti-ship and air-to-air missiles, Azernews reported. 
It's not immediately clear whether the F-313 can actually fly yet, however. In 2013, the jet was designed to soar at low altitudes, deliver air support for ground forces and land on limited-space runways, the Daily Mail reported. But the cockpit was "almost comically small," according to IHS Jane's, an issue that has been fixed with the latest version of the jet, aviation experts say. 
The jet still features the "original weird shape" and overall design, analyst David Cenciotti wrote in an article published by The Aviationist. Notably, the jet is unusually small and has stubby-looking wings with downturned tips Cenciotti noted didn't seem efficient.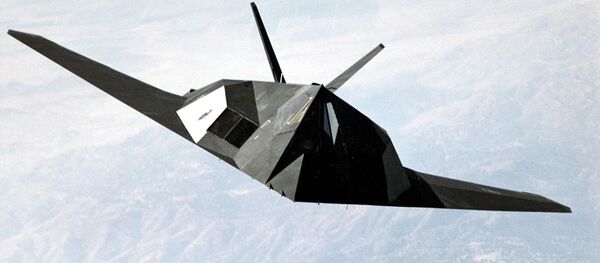 The new version of the jet still has a couple of hurdles to clear before it can take off and land safely. The air intakes look too small, the wings may not be big enough, and the "weird" design may prohibit the jet from taking to the skies anytime soon, Cenciotti said. 
Tasnim News Agency, a privately-owned Iranian news outlet, claims, "the single-seat stealth fighter jet can take off and land on short runways," but if that were true, it stands to reason IRIB News would broadcast footage of the jet doing those things. 
In 2013, a photo of the F-313 flying over a mountain range was widely suspected to be a photoshopped image.