MOSCOW (Sputnik) — According to the Kurdish news agency Firat, the attack started at 08:00 p.m. local time (17:00 GMT) and continued until late at night.
The ongoing attacks of Turkey-backed troops in the Shehba region, which has been liberated of terrorists from Daesh, have the aim of surrounding Aleppo, currently under the control of Syria's government forces, by unifying the A'zaz and Idlib regions, the outlet suggested.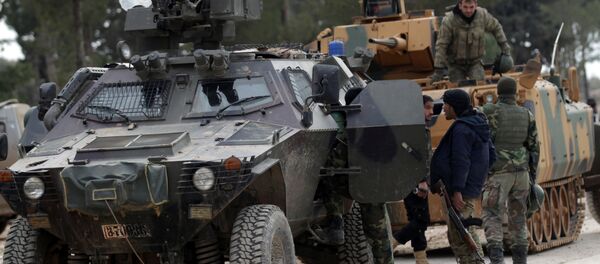 The Turkish Armed Forces started the Operation Euphrates Shield in Syria
on August 24, 2016
. The operation, aimed at supporting the opposition army, pushing Daesh from Turkish borders, and stopping the advance of Kurdish militants,
ended in March
. Turkey fears that Syrian Kurds who carved out a self-governing territory in Rojava, similar to Iraq's autonomous Kurdish region, will embolden Turkey's large Kurdish minority to try and forge a similar territory inside its borders.
Syrian Kurds' Rojava region became de facto autonomous as a result of the Syrian civil war between government forces, and opposition and militant groups such as Daesh, which has been raging since 2014.