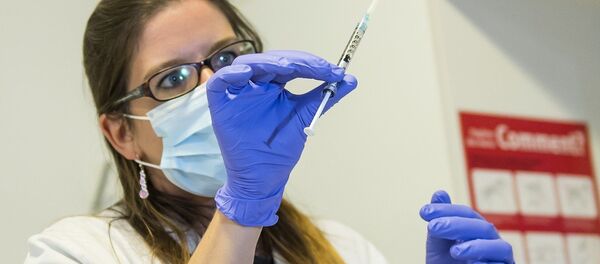 WASHINGTON (Sputnik) — Eleven volunteers have been successfully transported from Africa to the United States to test a new bio-containment system that was developed in response to the 2014 Ebola epidemic, US Department of State Managing Director of Operational Medicine William Walters told reporters at a news conference.
"This exercise, Tranquil Shift, tested the U.S. government's maximum lift capability in response to a simulated outbreak of a highly contagious pathogen, deploying a combination of aeromedical bio-containment systems used during the Ebola outbreak and containerized bio-containment systems," Walters explained on Tuesday.
The 40-foot-long "containerized bio-containment" systems were developed after the Ebola outbreak and fitted inside two Boeing 747 jets. In a two-day drill earlier this month, the 11 simulated patients were flown from Africa to the Dulles airport near Washington, DC, Walters explained.
From there, the patients were individually transported to treatment centers throughout the United States, Walters noted.
During the Ebola outbreak, US officials only had small-jet biocontainment capability, which was used to evacuate 46 patients from Africa. Although the system performed flawlessly, it was clear earlier in the outbreak that a larger transport capability was needed, according to Walters.