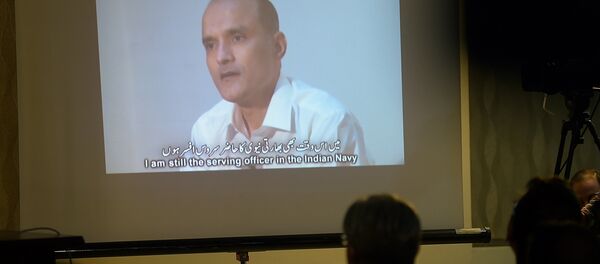 New Delhi (Sputnik) 
–
The Indian Space Research Organization (ISRO) will launch GSAT-9, the communication satellite, from its GSLV-09 rocket which will take off on May 5 from India's Sriharikota spaceport. The satellite has a lift-off mass of 2,195 kg, and has 12 Ku-band transponders and is designed for a mission life of more than 12 years.
"It's going up in the first week of May. Pakistan is not included in that as they did not want to be part of the project," PTI quoted ISRO Chairman A.S. Kiran Kumar as saying. "That is why ISRO changed its name to South Asia satellite instead of the initial proposed SAARC satellite," he added.
The idea was first mooted by PM Modi during his campaign as part of his policy to promote bonhomie among South Asian neighbors. His inauguration ceremony in May 2014 was attended by the leaders of all SAARC member nations, including Pakistan Prime Minister Nawaz Sharif.
Pakistan's non-participation in the project mainly stems from security reasons and avoiding data sharing with other countries, especially India. Islamabad's non-participation in the project was confirmed by the spokesperson of India's ministry of external affairs last year.
"Pakistan has decided to opt out of the satellite project. So it cannot be called a SAARC satellite. It will be a South Asia satellite," Vikas Swarup, then MEA spokesperson, informed reporters during a regular media briefing last March.
The South Asia satellite will provide communication and disaster support and improve connectivity among SAARC countries that are part of the project.  Each participating country can use a dedicated transponder with a capacity of 36 to 54 Mhz for its own use. Sri Lanka and Bangladesh have shown particular interest.
Disaster preparedness is an area of major concern in the region. South Asia accounted for a staggering 64 percent of total global fatalities, according to the World Meteorological Organization data.
Whether it was the 2015 earthquake in Nepal, which annihilated more than 8,000 people or the devastating floods in Chennai in late 2015 or the annual flood cycle in Bangladesh, the region requires advance warning and monitoring systems. And only India has the capability to launch a cost-efficient satellite in the region.
In another development, ISRO chief reiterated the space agency's vision to rope in the private sector to offload its burden, boost innovation and create an expanding space industry for job creation.
Never miss a story again — sign up to our Telegram channel and we'll keep you up to speed!