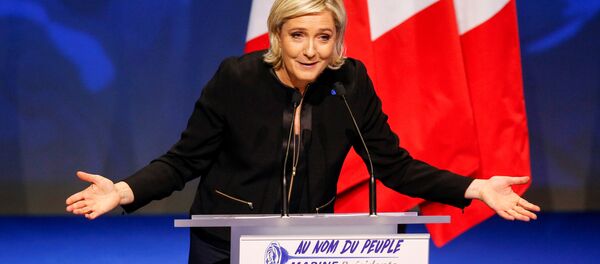 MOSCOW (Sputnik)
–
According to the poll prepared for Le Monde newspaper, independent presidential candidate Emmanuel Macron will defeat Le Pen at the second round of the election with 61 percent against 39 percent, ex-Prime Minister Francois Fillon will defeat the far-right candidate with 55 percent against 45 percent, while head of left-wing political movement La France Insoumise (Unsubmissive France) Jean-Luc Melenchon is projected to defeat Le Pen with 57 percent against 43 percent.
At the same time, the poll revealed, that the balance of power at the first round had not changed, with Macron leading with 23 percent against Le Pen's 22.5 percent, Fillon's 19.5 percent and Melenchon's 19 percent.
According to the poll, 28 percent of voters are expected to abstain from the election.
Never miss a story again — sign up to our Telegram channel and we'll keep you up to speed!