It appears that Donald Trump's "armada," led by the USS Carl Vinson, an aircraft carrier, had only been approaching North Korea figuratively.
"We are sending an armada. Very powerful. We have submarines, very powerful, far more powerful than the aircraft carrier, that I can tell you," Trump told Fox Business Network, specifying that the deployment was part of the US response to Pyongyang's "provocations."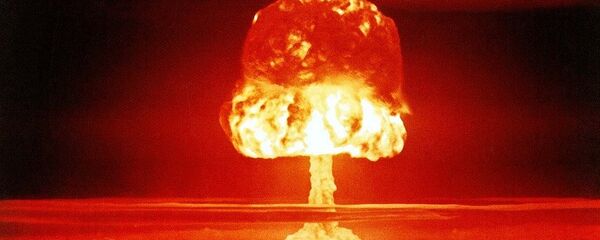 Earlier, on April 8, US Pacific Command stated that the USS Carl Vinson and an accompanying strike group would head to the Western Pacific in a "show of force" toward North Korea.
Predictably, the gesture prompted a fierce response from Pyongyang, which dubbed the supposed deployment of the strike group in the Sea of Japan as a "reckless act of aggression."
A chain reaction of tough statements led to Pyongyang's threatening the US with a preemptive strike in the event of any US "political, economic or military provocation" and prompted US Vice President Mike Pence to announce that "the era of strategic patience [toward North Korea] is over."
Meanwhile, contrary to all expectations, the much-talked about "armada" was heading toward Australia, far away from the Korean Peninsula.
"It was even farther away over the weekend, moving through the Sunda Strait and then into the Indian Ocean, as North Korea displayed what appeared to be new missiles at a parade and staged a failed missile test," Phil Stewart of Reuters noted Wednesday.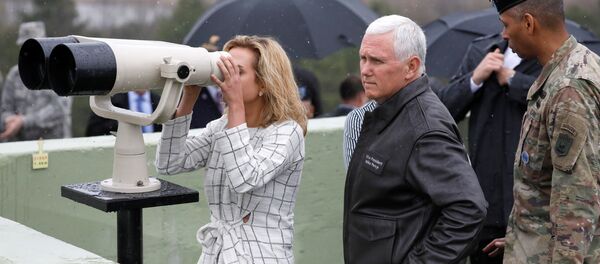 As the US Pacific Command clarified Tuesday, the flotilla needed to complete joint naval drills with Australia. The statement added that now the strike group was "proceeding to the Western Pacific as ordered."
The paradoxical episode has prompted a heated debate in the media, with some observers claiming that Trump's empty threats have dealt a blow to the new administration's credibility and the others blaming the embarrassing situation on a miscommunication between the Pentagon and the White House.
However, at the same time, some experts called attention to the fact that Trump somehow toned down his harsh rhetoric toward Pyongyang during his recent interview with TMJ4-TV in Wisconsin. The US President expressed hope that North Korean leader Kim Jong Un wants to maintain peace on the Korean Peninsula.
"Hopefully, he [Kim Jong Un] wants peace and we want peace. And that's gonna be the end determination. We're gonna have to see what happens," Trump said.
Just a few days ago, however, US media circulated reports that Trump might order a strike against North Korea if Pyongyang decides to carry out a new nuclear weapons test.
Military parade in North Korea
© Sputnik / Iliya Pitalev
/
Commenting on the matter, Russian political scientist Alexei Gusev told Radio Sputnik that it is highly unlikely that the US will engage North Korea in a direct confrontation.
"There will be no strike against North Korea," Gusev said, "Because the Democratic People's Republic of Korea possesses not only nuclear weapons but also delivery vehicles — missiles with a range of about five thousand kilometers. And that's enough to reach the territory of the United States."

"So, it is most likely that [the US] won't launch a strike against North Korea," the Russian political scientist reiterated, "This adventure would have ended very badly for the US."
Gusev admitted that Pyongyang remains a major "irritating factor" for the Trump administration. He also didn't exclude a new nuclear weapons test on the part of North Korea.
"North Korea has already conducted several nuclear weapons tests. Now, probably, there will be yet another atomic test… It is understandable that Donald Trump should issue a 'serious' response [to it]," the political scientist noted.
Georgiy Toloray, the head of Korean studies at the Institute of Economics of the Russian Academy of Sciences, has a similar stance.
In a Monday interview with Radio Sputnik Toloray suggested that the US threats toward North Korea was mere "bluff."
"Now Donald Trump and his administration say that it is necessary to act decisively and take measures against the DPRK, including military options. However, in my opinion this is still a bluff. And this bluff is aimed primarily at making China act more decisively towards North Korea," Toloray said.
It seems that the Russian experts have nailed it, given the fact that the USS Carl Vinson and his strike group were heading away from the Korean Peninsula while Trump and Pence issued threats to Kim Jong Un.
Have you heard the news? Sign up to our Telegram channel and we'll keep you up to speed!