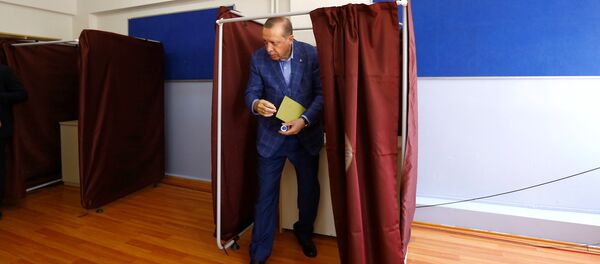 ANKARA (Sputnik)
–
Turkey's Supreme Election Council (YSK) will evaluate appeals disputing Sunday's constitutional referendum on Wednesday, YSK President Sadi Guven said.
"We will consider appeals on the results of the referendum today," Guven said as quoted by the NTV broadcaster.
During Sunday's referendum, Turkish citizens supported the government-backed constitutional changes to shift to a presidential system, and therefore broaden the sitting president's powers. The preliminary results showed that "yes" votes stood at 51.41 percent with all ballots counted. While the reforms had already been cleared by the Turkish parliament and were signed by Erdogan before Sunday's vote, they will become official after a 12-day period when appeals are dealt with.
The opposition has claimed that violations in voting conduct have been committed and slammed the election committee for declaring unstamped ballots as valid. The Republican People's Party (CHP), the main Turkish opposition party, said that it would demand a partial recount in the constitutional referendum. On Tuesday, the CHP demanded that YSK cancel the results of the constitutional referendum and filed the relevant appeal.
On Monday, the OSCE observer mission stated that the "no" campaign did not receive the same opportunities as the "yes" campaign, adding that voters also did not receive impartial information about the key points of the proposed amendments. The OSCE concluded that the referendum did not meet the standards of the Council of Europe.
Erdogan refuted the OSCE findings, calling them "politically motivated," and added that the OSCE observers "should know their limits."
Never miss a story again — sign up to our Telegram channel and we'll keep you up to speed!