Speaking at the Chatham House Royal Institute of International Affairs in London on Wednesday on the second day of his two day visit to London, Poroshenko evoked a quote by British Prime Minister Winston Churchill, who said during World War II that "an appeaser is one who feeds a crocodile, hoping it will eat him last."
Condemning Western politicians who seek to conduct dialogue with Russia, the Ukrainian President suggested that in today's world, Russia was the crocodile. Spouting off a standard barrage of insults toward his eastern neighbor, Poroshenko complained that Russia doesn't play by the rules, doesn't believe in democracy or human rights, and was seeking world domination. 
"This is not Ukraine's struggle, it is Europe's struggle," he added, as he pleaded with Western nations not to relieve sanctions pressure on Moscow. 
"Sanctions and the resistance of the Ukrainian army are the only reason Russian tanks are not much further into Europe," Poroshenko suggested, his speech degenerating into something almost surreal.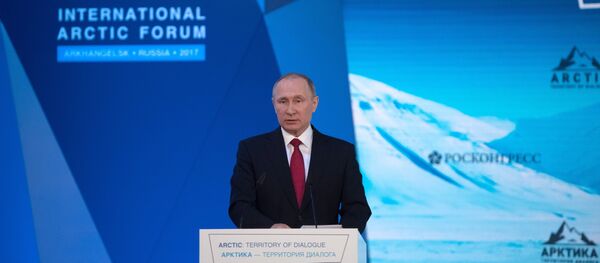 Russian analysts have had quite a good chuckle commenting on Poroshenko's absurd claims. Political scientist Oleg Ignatov, for example,
told
Radio Sputnik that Poroshenko's rhetoric could be 'translated' to mean 'Washington, please give us weapons'.
"In and of itself, such tough talk on Poroshenko's part isn't very surprising," the analyst noted. "For over two years, Poroshenko has resorted to making these kinds of confrontational statements about Russia."
Today, Ignatov suggested, it's obvious that "he wants to obtain lethal weapons from Washington," and just as significantly, unconditional support from the Trump administration, just as he had received from President Obama.
Most observers don't believe that Washington will be as willing to dole out the same kind of money and other support as they did under the previous administration. Still, Ignatov suggests this will not stop Poroshenko from trying to whisper in Trump's ear.
"I think that the current administration will resort to these steps only if it becomes crystal clear that nothing will turn out between the Kremlin and the White House. After all, the supply of arms to Ukraine and the strengthening of sanctions would be negatively perceived in Russia, and could even further worsen Russian-US relations."
"But I think Poroshenko will continue to press on; he'll continue appealing to Trump, and making confrontational overtures toward Russia, to try to show that Russia cannot be negotiated with, etc."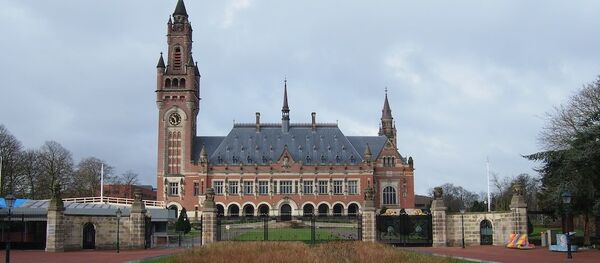 Indeed, Moscow, concerned over the conflict on its borders in Ukraine's Donbass region, has
repeatedly warned
the US against sending lethal weapons to Ukraine to fight its civil war, saying it would only escalate the conflict, and lead to
catastrophic consequences
.
Ukrainian ex-lawmaker Vladimir Oleynik, the cofounder of the Ukraine Salvation Committee, believes that Poroshenko should have little reason to expect that his tough rhetoric will lead to any serious benefits for Kiev. "In Europe, Poroshenko can talk endlessly about his heroic efforts to fight Putin. Those who still do not know Ukrainian realities will believe in these fairy tales, but those who do will keep silent," the former MP said.
"Frankly speaking, Poroshenko is now engaged in a very profitable business: putting on a play for fools. Along with the war business and the chocolate business, this is his favorite pastime. In the UK, he was hoping to find a couple of dummies, so that Kiev could proudly present the London visit as another 'European achievement.'"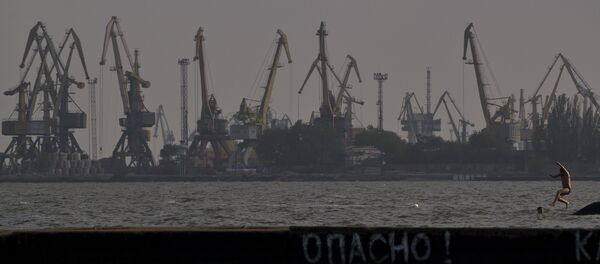 Finally, Radio Sputnik contributor Anna Rzvalyaeva couldn't get over the ridiculousness of the 'crocodile' remark. 
"Here, Poroshenko created a kind of cognitive dissonance, because Russia had always been associated with a different animal – the bear. But maybe the Ukrainian president knows better. After all, he has his own distinct viewpoint on everything. In the same speech, for example, he suggested that the preservation of Western sanctions against Russia was the key to the success of Ukraine's economic reforms." What connection there is between Ukraine's struggling economy and Western sanctions against Russia only Poroshenko knows, Rzvalyaeva wrote.