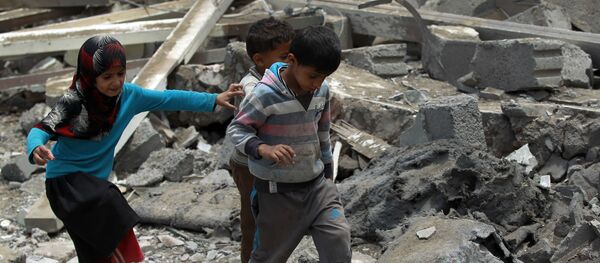 HMEYMIM (Sputnik) – Russian servicemen have delivered almost 8 tonnes (metric tons) of humanitarian aid to civilians in Syria's Aleppo and Latakia provinces in the past 24 hours, the Russian center for Syrian reconciliation informs in its daily bulletin.
"Within [the] last 24 hours, the Russian Centre for reconciliation of opposing sides has held 7 humanitarian events in the Aleppo (6) and Latakia (1) provinces. Citizens of Aleppo have received 600 sets with food products and 1.2 [metric] tons of bread in the areas of al-Inn Zarat, Beyedin, al-Suqari, al-Maadi, Old Aleppo, and Hai Teshrin. Civilians have received 250 sets with food products in Tishrin in the Latakia province," the bulletin, posted by the Russian Defense Ministry on Thursday, says.
According to the statement, a total of 2,323 Syrian civilians received humanitarian aid in the past 24 hours. The total weight of the humanitarian aid amounted to 7.9 metric tons.
Russia has also helped deliver UN aid to Syria.
"Russian aircraft delivered 21 tons of humanitarian aid (food products) to the Deir ez-Zor area using parachute platforms. The aid was provided by the United Nations," the Russian reconciliation center informed.
Russia has been carrying out regular humanitarian aid deliveries to Syria, where people are suffering from the consequences of ongoing fighting between government forces and terrorists, such as the Islamic State (IS, also known as Daesh) terrorist group, banned in Russia and a range of other countries.
Russia has been supporting Damascus in the fight against terrorists since the beginning of the military crisis in Syria in 2011.