MOSCOW (Sputnik) — As anti-Russia sentiment surges in Montenegro, provocations targeting Russian nationals living within the country are becoming increasingly possible, Russian Foreign Ministry spokeswoman Maria Zakharova said Thursday.
"The situation unfavorable for the Russians is currently developing… We note the surge of anti-Russian hysteria there," Zakharova said in response to the question from the media about the situation regarding Russian citizens in the Balkan country, as published on the Russian Foreign Ministry's website.
The spokeswoman noted that the deterioration of bilateral relations between Russia and Montenegro, Montenegro's imminent accession to NATO, and the country's decision to join the European Union in its an-Russia sanctions have contributed to the current negative attitude toward Russian nationals.
"We noted the increase of the negative attitude to the Russian businesses and our compatriots, the increase of enmity to Russia and its citizens at the instigation of the ruling coalition. We do not rule out possible provocations, detentions for dubious reasons, the attempts to give out Russian citizens to the third countries, primarily the United States," Zakharova noted.
The diplomat added that the Montenegrin politicians were responsible for the promotion of the "Russophobia," a phenomenon which is uncommon among the country's predominantly pro-Russian population.
"We urge the Russian citizens to take these circumstances into account," Zakharova added.
As many as 14 people, including Serbian and Russian citizens, were arrested in Montenegro on the day of the country's general election on October 16, 2016. In February, Montenegrin Special Prosecutor Milivoje Katnic accused the Russian "nationalistic structures" and governmental authorities of having plotted the coup. He also said that Russian citizen Eduard Shirokov was involved in planning the assassination of Milo Djukanovic, who had been Montenegro's prime minister at that time. Another Russian national Vladimir Popov was put on the Interpol wanted list alongside Shirokov on suspicion of plotting the coup in Montenegro.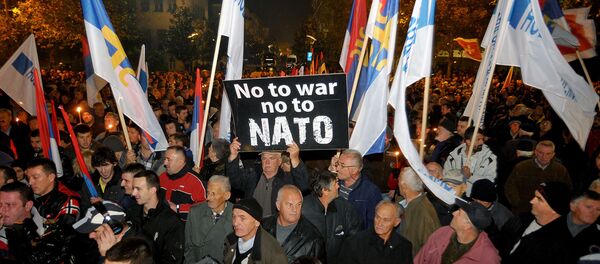 Russian Foreign Minister Sergei Lavrov
called the allegations unfounded
while Kremlin's spokesman Dmitry Peskov characterized them as "absurd" and noted that Moscow was not involved in any internal events in Montenegro.
In late January, Prime Minister Dusko Markovic said Montenegro plans to become a full-fledged member of NATO before the next summit of the military alliance in May. In March, NATO Secretary General Jens Stoltenberg said that a failed attempt to stage a coup in Montenegro served as an argument in favor of the country's accession to the alliance, not against it.