During the hearing, Akram Azimov, the elder brother of suspected organizer of the terrorist act in the St. Petersburg metro Abror Azimov, denied any involvement in the subway blast, a Sputnik correspondent reported from Moscow's Basmanny Court on Thursday.
"I'm not involved in the terrorist attack," the suspect, who is charged with direct participation in the terrorist act, said.
An investigator in the court said Thursday that Akram testified against his brother Abror.
"During the questioning as a suspect, Azimov said that he and his brother performed actions that contributed to the explosion," the investigator said.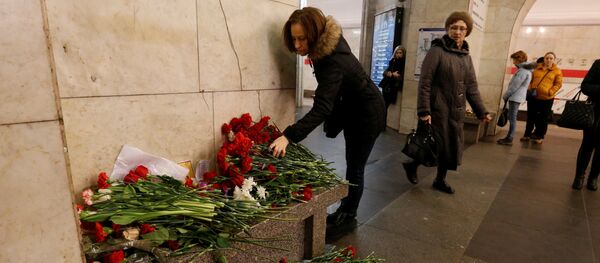 Despite the suspect's plea, Moscow's Basmanny Court authorized the arrest of Akram Azimov.
"Uphold the investigator's motion: choose in relation to Azimov, suspected of committing crimes stipulated by Russian Criminal Code articles 205 (terrorism) and 222 (illegal turnover of weapons), the measure of restraint in the form of taking into custody," Judge Elena Lenskaya announced.
The Russian Investigative Committee subsequently said that Akram Azimov called by phone suicide bomber Akbarzhon Jalilov and transferred him money received in Turkey from a member of an international terrorist group.
"The investigation provided information that Azimov contacted Jalilov and transferred money to him. He received this money for preparation of the terrorist act in Turkey from an active member of an international terrorist organization. Azimov also was engaged in forging documents so that members of this organization could freely move across Russia," Judge Elena Lenskaya's ruling on Azimov's arrest said.
On April 3, a suicide explosion hit a subway car on a stretch between two subway stations in the center of St. Petersburg, claiming 15 lives, including the perpetrator of the attack, and leaving about 50 people wounded. Russia's Investigative Committee said that a Russian citizen of Kyrgyz descent Akbarzhon Jalilov was the prime suspect, but did not rule out the possibility of the perpetrator having accomplices.
On Monday, FSB officers detained Abror Azimov on suspicion of training Jalilov and delivered him to the Investigative Committee. On Tuesday, Azimov's lawyer Armen Zadoyan told reporters that his client had admitted his guilt.
On Wednesday, FSB operatives detained Akram Azimov, the elder brother of Abror Azimov. According to FSB, elder Azimov helped to transfer money for the preparation of the terrorist attack and assisted in establishing communication channels with the emissaries of international terrorist organizations.