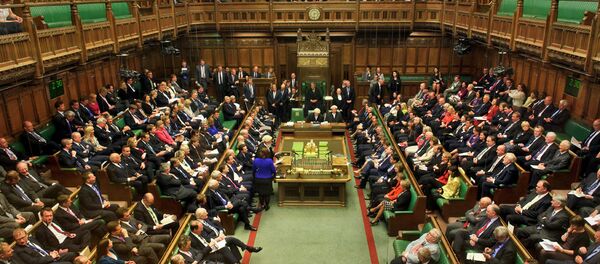 21 February 2017, 20:24 GMT
WASHINGTON (Sputnik) — The US government is identifying potential violators of the Magnitsky Human Rights Accountability Act and will conduct an interagency review to ensure commitments are met, President Donald Trump said in a letter to the Senate and House of Representatives judiciary committees.
"My administration is actively identifying persons and entities to whom the Act may apply and are collecting the evidence necessary to apply it," the letter stated on Thursday. "Over the coming weeks and months, agencies will undertake thorough interagency vetting to ensure we fulfill our commitment to hold perpetrators of human rights abuses and corruption accountable.
Trump added that the departments of State, Treasury and other relevant agencies have compiled a report outlining the administration's support of the Magnitsky Act, making clear his commitment to its thorough enforcement.
In January, Russia's Foreign Ministry said sanctions imposed by the Magnitsky Act amounted to an unjustified and politically motivated initiative, after the United States added five Russian individuals to its Specially Designated Nationals list for alleged violations of the legislation, including Russian Investigative Committee head Alexander Bastrykin.
The US Congress passed the Magnitsky Act in 2012, which allows Washington to deny visas and free the assets of Russian officials allegedly involved in the death of Russian lawyer Sergei Magnitsky and human rights violations in Russia.
Magnitsky was a Russian lawyer who revealed alleged corruption at the highest levels of the Russian government. He was detained in 2008 and accused of conspiracy and abatement for tax evasion. He died in the Matrosskaya Tishina pre-trial detention center in Moscow in 2009.
During the 2016 presidential election, Trump vowed to try and improve relations with Moscow and some critics even feared he would roll-back anti-Russian sanctions.