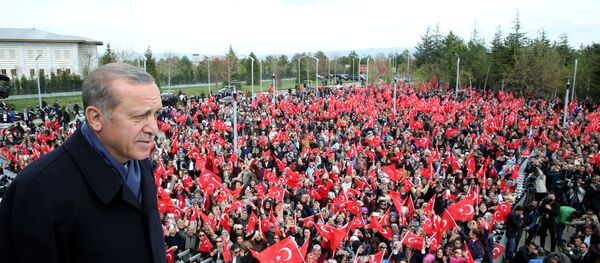 According to recent reports in the Turkish media, Ankara is planning a new operation against the Kurdistan Workers' Party (PKK) in northern Iraq.
The operation, code-named Tigris Shield, is set to involve thousands of tanks, vehicles and artillery pieces which were used in Syria.
It will be aimed at the town of Sinjar, which is inhabited mainly by Yazidis, with a Muslim Kurdish minority.
Turkey has recently announced that it had completed its half-year Euphrates Shield operation in northern Syria against Daesh and Kurdish militants, although it is keeping a presence in the country to maintain security in towns now under the control of pro-Ankara Syrian rebels.
Earlier in April, President Recep Tayyip Erdogan said that Euphrates Shield was only a "first stage" and new military operations were being planned, including for Sinjar. The new operation would begin in late April or May.
Back in March, Turkish Foreign Minister Mevlüt Çavuşoğlu said Turkey is determined to prevent the PKK from securing a base in northern Iraq's Sinjar region and also indicated that Ankara plans to conduct a military operation against the PKK base in Sinjar.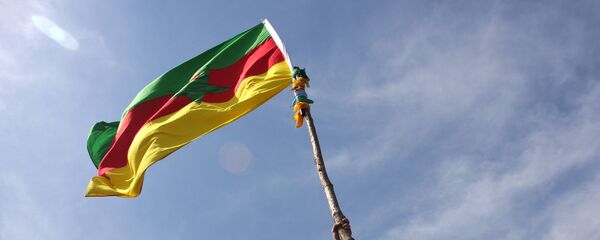 "We [Turkey] will use military options against the PKK in Sinjar. I'm not saying that we will only use military force if necessary, I'm saying that we will use military force without question," Çavuşoğlu told Daily Sabah while on his way to Brussels to attend the NATO Foreign Ministers meeting on March 30.
Underlining that from Turkey's perspective there is no difference between Sinjar and the Qandil Mountains where the PKK have bases in Iraq, Çavuşoğlu also added that this issue was among the topics that had been discussed during US Secretary of State Rex Tillerson's visit to Ankara on March 30.
Sputnik Turkiye talked to the Mayor of Sinjar, Mıhemed Xelil, who said that they won't allow the Turkish invasion.
"We do not have any information on the planned military operation of the Turkish armed forces. However we won't allow Turkey to conduct any military operation against the PKK on the Kurdish territory. The PKK is a Kurdish organization and we do not want Kurdish blood to be spilled in Sinjar," he told Sputnik.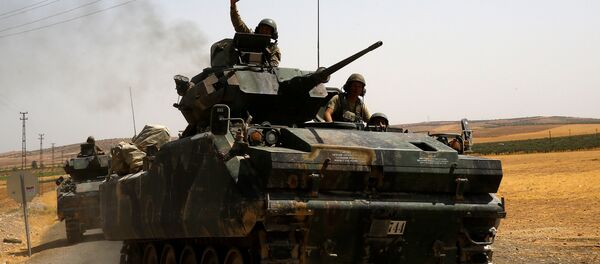 2 December 2016, 12:19 GMT
He further explained that the presence of the PKK in Sinjar is solely the problem of the Kurds and the Iraqis and there is no need for Turkey's interference.
"We have every intention of giving a decisive rebuff to all the attempts of invasion, either by Turkey or of any other force. Such actions bring no benefits either for Turkey or Iraq or Sinjar," he said.
Mıhemed Xelil, however, added that neither Turkish military nor the Kurdish PKK should be present on the territory of Sinjar, part of Nineveh Province that was decisively liberated by Iraqi Kurds from Daesh (ISIS) terrorists in November 2015.
Meanwhile, the leadership of the regional administration of Iraqi Kurdistan has been informed of the planned operation of the Turkish military, which is said to be prepared to use its 16 military bases located on the border with Iraqi Kurdistan.