DAMASCUS (Sputnik) — Syria could require Russian military assistance on the ground if terrorists change course and recruit more fighters from abroad, Assad told Sputnik.
"Maybe in the future if our enemies and their supporters, their terrorists, the proxies, change their strategy and bring more terrorists from around the world, and you have full armies of terrorists at that time, it could be needed," Assad said.
He praised the Russian Aerospace Forces' efficiency in assisting the Syrian military, saying "everybody knows that since that support started in 2015, the balance has changed, and we could recapture Palmyra and Aleppo and many other areas."
"So, I don't think now there is a need for ground troops," Assad said, noting that Russian air- and sea-based missiles from facilities in the northeast and the Mediterranean provide additional support.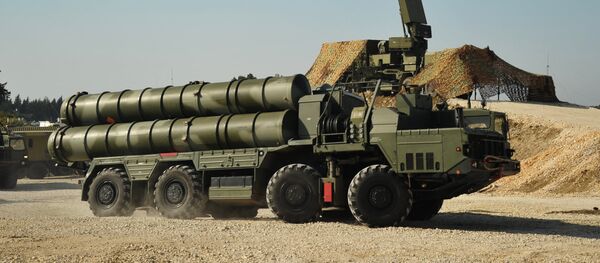 Russia's air group at the Hmeymim airbase in northwestern Syria is
protected by the S-400 and S-300 air defense systems
, as well as the Pantsir-S1 surface-to-air missile launchers. The S-400 and Pantsir systems provides air cover to the Russian aviation grouping at Hmeymim, while the S-300s protects
Russia's naval facility in Tartus
.
The S-400 system was deployed at the Hmeymim following the Turkish Air Force's November 2015 downing of a Russian Su-24 bomber on the Syrian-Turkish border. In October 2016, the Russian Defense Ministry said that a S-300 system was sent to Syria to ensure the safety of the Russian naval base in Tartus. According to media reports, the system deployed in Syria is S-300V4 — NATO designation SA-23 Gladiator — that is capable of striking tactical and strategic aircraft, medium-range ballistic missiles, tactical missiles as well as cruise missiles.
Russia began airstrikes against terrorists' targets in Syria on September 30, 2015, following a request from Syrian President Bashar Assad.