DAMASCUS (Sputnik) — The Syrian government is aware that Jordan is planning to deploy troops on its territory in coordination with the United States, Syrian President Bashar Assad told Sputnik.
"We have such information, but anyway Jordan was part of the American plan since the beginning of the war in Syria," Bashar said.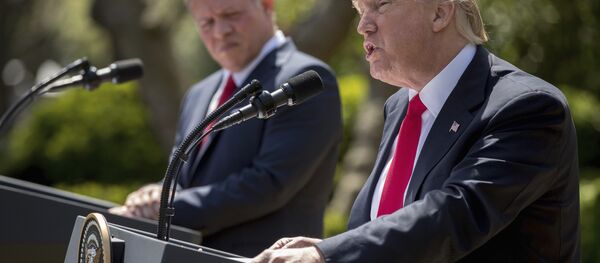 He maintained that, "it's the United States who defines the plans, who defines the players, and who endorses everything regarding Syria coming from Jordan, and many of the terrorists coming from Jordan, and of course Turkey, since day one of the war in Syria."
The statement comes following the talks between US President Donald Trump and Jordanian King Abdullah II earlier in April. The two leaders held a bilateral meeting at the White House on crucial Middle East issues, such as means to defeat Daesh terrorist group.
Jordan is a part of the US-led coalition against Daesh, which is conducting airstrikes against Daesh in Syria without the approval of Syrian authorities and the UN, thus, violating the international law.