ROME (Sputnik) — On Thursday, a gunman opened fire on French police officers in Paris, killing one law enforcement member and injuring two others, as well as a passerby.
"What has happened in Paris yesterday shows us again the danger of terrorism and need for firm, decisive and responsible defense, which has to ensure values of democracy and freedom," Mattarella said at a public ceremony in Rome.
The Daesh terror group, banned in numerous countries, reportedly claimed responsibility for the attack.
© AP Photo / Thibault Camus
A police officer stands guard after a fatal shooting on the Champs Elysees in Paris, France, Thursday, April 20, 2017. French media are reporting that two police officers were shot Thursday on the famed shopping boulevard. Many police vehicles could be seen on the avenue that passes several of the city's most iconic landmarks. (AP Photo/Thibault Camus)
© AP Photo / Thibault Camus
A police officer stands guard after a fatal shooting on the Champs Elysees in Paris, France, Thursday, April 20, 2017. French media are reporting that two police officers were shot Thursday on the famed shopping boulevard. Many police vehicles could be seen on the avenue that passes several of the city's most iconic landmarks. (AP Photo/Thibault Camus)
© AP Photo
In this image made from video, police attend the scene after an incident on the Champs-Elysees in Paris, Thursday April 20, 2017. French media are reporting that two police officers were shot Thursday on the famed shopping boulevard. (AP Photo)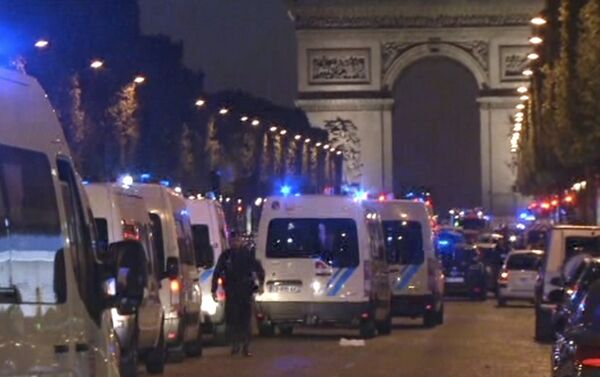 In this image made from video, police attend the scene after an incident on the Champs-Elysees in Paris, Thursday April 20, 2017. French media are reporting that two police officers were shot Thursday on the famed shopping boulevard. (AP Photo)
© AP Photo / Thibault Camus
A police officer stands guard after a fatal shooting on the Champs Elysees in Paris, France, Thursday, April 20, 2017. French media are reporting that two police officers were shot Thursday on the famed shopping boulevard. Many police vehicles could be seen on the avenue that passes several of the city's most iconic landmarks. (AP Photo/Thibault Camus)
In this image made from video, police attend the scene after an incident on the Champs-Elysees in Paris, Thursday April 20, 2017. French media are reporting that two police officers were shot Thursday on the famed shopping boulevard. (AP Photo)