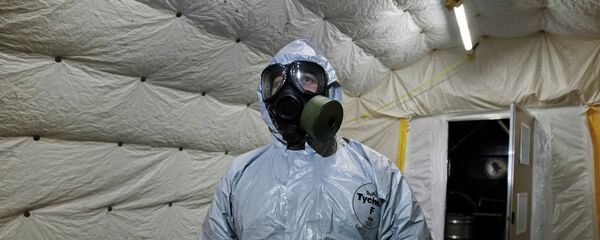 ASTANA (Sputnik) – The blocking of the Russian proposal at the Organisation for the Prohibition of Chemical Weapons (OPCW) on investigating the alleged chemical weapon use in Syria's Idlib province aims to direct attention to the idea of regime change in Syria, Russian Foreign Minister Sergey Lavrov said.
"Yesterday, our joint proposal that OPCW experts visit the sites of the suspected chemical weapon use incident in Syria was blocked by western delegations without coherent explanations. This showed the complete incompetence of the positions of our western colleagues who basically prohibit the OPCW from sending their experts to the site of the incident, to the air base from where aircraft loaded with chemical weapons allegedly flew out," Lavrov said on Friday at a joint meeting with Chinese Foreign Minister Wang Yi.
Lavrov stressed that there has been no response from London or Paris to Russian requests for detailed information on alleged chemical weapon probes taken in Syria.
"I think we are very close to this organization [OPCW] being discredited," Lavrov said, adding that the spread of "false information on the use of chemical weapons by the Syrian government is being used to move away from the implementation of resolution 2254 which stipulates a political settlement with the participation of all the Syrian parties and to switch to the long-cherished idea of regime change."