DAMASCUS, April 21 (Sputnik) — Damascus is 100 percent certain that terrorists get chemical weapons and other financial and military support directly from Turkey, Syrian President Bashar Assad told Sputnik in an interview.
"Directly from Turkey, and there was evidence regarding this, some of [it has] been shown on the internet a few years ago. You had many parties and parliament members in Turkey who questioned the government regarding those allegations. So, it's not something hidden," Assad said.
He further maintained that financial, armament and logistic support for terrorists in Syria, including recruitment, is provided through Turkey.
"They don't have any other way to come from the north. So, it's a hundred percent Turkey," Assad said.
Earlier, Assad warned that new provocations, similar to the one that took place in the Khan Sheikhoun area of Syria's province of Idlib, could take place in Syria.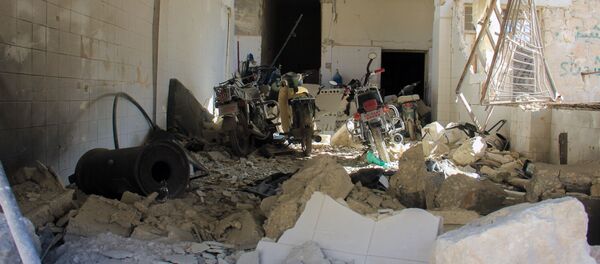 On April 4, the National Coalition for Syrian Revolutionary and Opposition Forces claimed that 80 people were killed and 200 injured in a suspected chemical attack in Khan Sheikhoun, putting the blame on the Syrian government. Damascus vehemently rejected the accusations and said militants and their allies were responsible.
According to the Russian Defense Ministry, the Syrian Air Force hit a warehouse where militants stored chemical weapons, which were sent to Iraq. The Russian Foreign Ministry reminded that the Syrian government doesn't possess chemical weapons since mid-2014. Chemical weapons have been taken out of the country with US' help.
In response to the Khan Sheikhoun incident the United States launched 59 Tomahawk cruise missiles at the Syrian military airfield in Ash Sha'irat, located about 40 kilometers (25 miles) from the city of Homs. Russia described the attack as an aggression against a sovereign state.