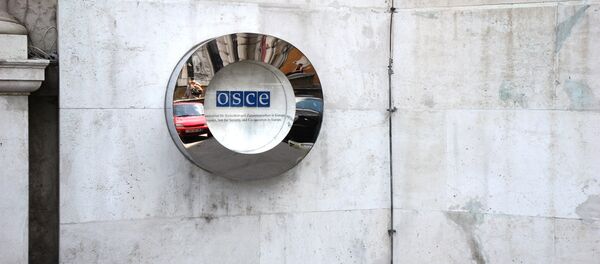 KIEV (Sputnik) — Principal Deputy Chief Monitor of the
Organization for Security and Co-operation in Europe (OSCE) Special Monitoring Mission (SMM)
to Ukraine Alexander Hug confirmed on Sunday that the monitor killed by a vehicle blast in Donbas was a US citizen.
"This explosion resulted in the death of an OSCE patrol member, a citizen of the United States. Two patrol members from Germany and the Czech Republic were taken to a hospital in Luhansk for further medical examination," Hug said at a press conference.
Earlier in the day, law enforcement officials of the self-proclaimed Luhansk People's Republic (LPR) said the explosion hit the observers' car near the Pryshyb settlement in the Luhansk region and, as a result, one SMM member was killed.
Initially, Anton Gerashchenko, an adviser to the Ukrainian Interior Minister Arsen Avakov, said that the blast had left a UK citizen killed. The Russian Foreign Ministry said later that the victim was a US citizen.