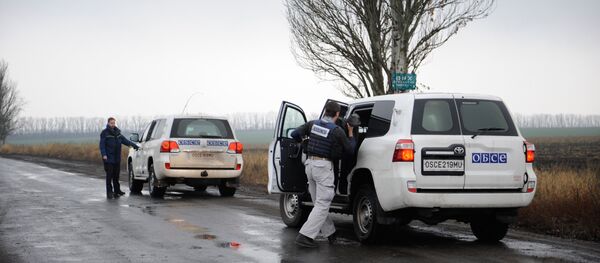 KIEV (Sputnik) – A Briton was killed and a German citizen was injured as a result of the explosion that hit the car of the Organization for Security and Co-operation in Europe (OSCE) Special Monitoring Mission (SMM) to Ukraine in Donbass, Anton Gerashchenko, an adviser to the Ukrainian Interior Minister Arsen Avakov, said on Sunday.
"As a result of the explosion of a mine in the occupied Ukrainian territory in the Luhansk region, an employee of the OSCE mission, a UK citizen… was killed. A German citizen… was contused by the blast. According to the current information, she was sent to the hospital in the city of Luhansk and received medical treatment," Gerashchenko wrote on his Facebook page.
Earlier in the day, law enforcement officials of the self-proclaimed Luhansk People's Republic (LPR) said an explosion of the observers' car occurred near Pryshyb settlement in the Luhansk region and, as a result, one SMM member was killed. According to the OSCE, two other observers were injured.