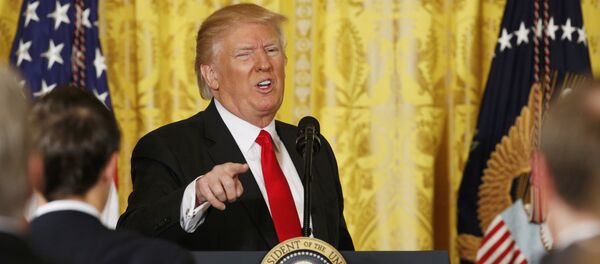 17 February 2017, 15:23 GMT
In an interview with Radio Sputnik, Americanist Dmitry Mikheyev
pointed out
that this issue
has previously been raised
.
"A year ago, very respectable US sources wrote that Trump suffers obvious deviations in the mental sphere: a mania of his own grandiosity, emotionality, impulsiveness," the expert noted.
According to him, this could be potentially used by the Democrats to remove Trump from power.
"They want to change the 25th Amendment which says that a person can be removed from the presidential post if he or she can't rule the state due to physical health. They could add only one phrase — "mental health" — which requires the approval of the majority of two-thirds in both chambers of the US Congress. If this is done, then they will have a chance to turn to the opinion of professional psychiatrists," the expert told Radio Sputnik.
Earlier this year, 30,000 people had signed a petition calling for Trump to be removed from his post due to his "mental health" problems.
Among them were psychiatrists, psychologists and social workers who also sent a letter to The New York Times saying that "the grave emotional instability indicated by Mr. Trump's speech and actions makes him incapable of serving safely as president."