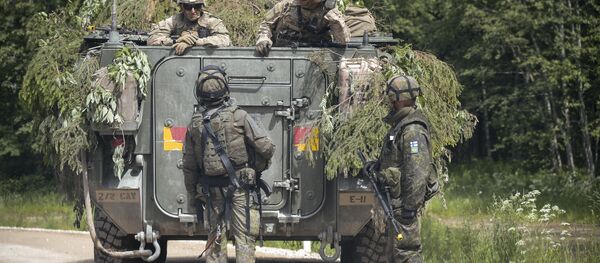 23 November 2016, 22:18 GMT
MOSCOW (Sputnik) — UK Labour leader Jeremy Corbyn said Sunday he would like, if his party won the upcoming general election, to build relationship with both Washington and Moscow, while avoiding the direct answer to the question whether he might pull out UK troops from Eastern European countries.
"We keep those troops [in Eastern Europe] for the moment but we would use the opportunity of a newly elected government to say, look, we want to reduce tensions on the borders of Europe, we want to build relationship with the US administration as well as with Russian administration and with the other big powers around the world," Corbyn told the BBC broadcaster.
The Labour leader said that he would like to work with NATO leaders on "building up an effective, sensible relationship with non-NATO countries, such as Russia."
NATO decided to deploy additional troops to the Baltics during the July 2016 summit in Warsaw. Allies agreed to deploy four multinational battalions to Estonia, Latvia, Lithuania and Poland. The United Kingdom pledged to send 800 soldiers to Estonia.
NATO has been boosting its military presence in Europe, particularly in Eastern European states, since the outbreak of the Ukrainian crisis, citing Russia's alleged interference in that conflict as justification for the move. Moscow has repeatedly denied allegations of its involvement in the Ukrainian conflict. Russian Foreign Minister Sergei Lavrov said in February that NATO actions at the Russian border had provocative and destabilizing character.
The UK general election is scheduled for June 8.