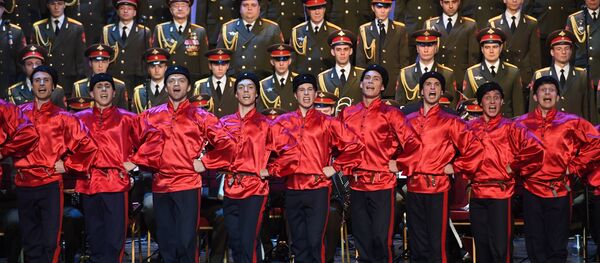 The activists described the ensemble, also known as the Russian Army Choir, as an instrument of propaganda and a vivid example of using music as an ideological weapon.
They accuse the  musicians of glorifying the Russian Army, praising Moscow's foreign policy and of just about everything else, including the 1968 invasion of Czechoslovakia.
"I hate to advertise this request and will say only that, after the tragic loss of the ensemble's leading singers, demanding no entry visas for the rest is absolutely un-Christian behavior," singer Jiri Klapka, who traditionally hosts the ensemble's concerts in the Czech Republic, said in an interview with Sputnik Czech.
He added that some obscure organizations, whose names can hardly be found on the internet, are trying to capitalize on the situation.
"It's my firm conviction that one should not mix art and politics. The majority of Czechs think the same, that's why all the concerts the ensemble is going to give here have been sold out. I'm sure that this letter by some unknown civil activists will be ignored and the performances will happen as planned."
The Alexandrov Ensemble will open their tour of the Czech Republic with a concert in Zlin scheduled for May 10.  They will also perform in Ostrava, Brno, Prague, Hradec Kralove, Gradce Kralow and Ceske Budejovice. They will team up onstage with the French electro-swing outfit Gypsy Forever, a  spinoff of the famous Gypsy Kings band.
When asked whether the new lineup of the Alexandrov Ensemble, which lost almost its entire lineup in last year's Black Sea plane crash, will be able to preserve its signature style, Jiri Klapka noted that he had earlier met with the ensemble's second artistic director Mikhail Marushevsky, the acclaimed "Mr. Kalinka" singer Vladimir Ananyev, virtuoso balalaika and accordion players and two new singers: a bass and a baritone.