A survey conducted by YouGov, an international research company, has found that the majority of British people would launch a retaliatory nuclear attack. PM May has already expressed her opinion on whether the government would press the nuclear button, if need be.
The House of Commons recently debated Trident, Britain's nuclear deterrent, and the PM said she was "personally prepared to authorize a strike," which could kill 100,000 innocent men, women and children.
May's answer was an unequivocal "yes," arguing that the whole point of having a nuclear deterrent was displaying a willingness to use it. In this, she was contrasting herself to Labour leader Jeremy Corbyn, who has previously said that he would never launch a nuclear strike.
The public appear to back the PM, with 66 percent saying that Theresa May was right to say she would launch a strike, and only 19 percent thinking that she is wrong. This number is actually higher than the amount of people who support the UK having nuclear weapons, which is 52 percent.
This implies that there are many people who don't want Britain to have nukes, but agree with Theresa May's position that if you do have the weapons you have to be seen to be prepared to use them.
Likewise, should the UK come under a nuclear attack, 60 percent of people would support launching a nuclear retaliation, with 21 percent saying they would not support it.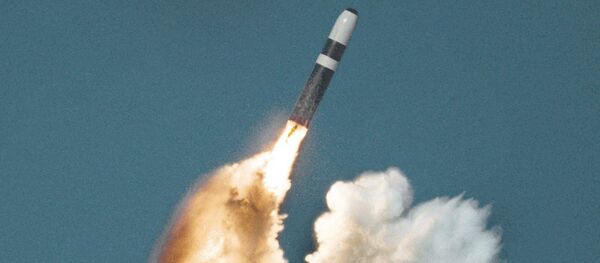 22 January 2017, 18:20 GMT
Those surveyed were also asked, if they were Prime Minister, and had responsibility over nuclear weapons, would they launch a retaliatory attack? 59 percent said that they would and only 23 percent said that they would not.
The results come a week after 44 percent of people told YouGov they wanted to see Trident — Britain's nuclear missile system — replaced. That research also showed that the public preferred to trust the Conservatives over Labour with decisions around Britain's nuclear deterrence.
Recently, Corbyn suggested that if Labour were to win the up and coming general election, they would consider scrapping Trident.
"We will have a strategic defense review immediately which will include all aspects of defence. We would then look at the situation at that time," Corbyn said.
However, a Labour party spokesperson said that the party does support the renewal of Trident.
These results are conflicting in comparison with a poll conducted by Election Data in 2016, which showed how the majority of the British population was against nuclear weapons. 68 percent of Labour members said they oppose Trident and 18 percent said they were in favor.