ANKARA (Sputnik) — On Friday, the Kremlin said the two leaders would meet on May 3 in the southern Russian city of Sochi with the Syrian crisis at the top of the agenda.
"I believe that after the negotiations between Putin and Erdogan a joint decision on the forthcoming steps related to the acquisition of the Russian [S-400] air defense systems will be made," Isik said, as quoted by the Anadolu news agency.
Erdogan's spokesman Ibrahim Kalin also confirmed that Erdogan will discuss S-400 air defense systems' deliveries to Turkey.
"This invitation [to visit Sochi] came personally from Putin. This visit is important from the viewpoint of discussing important issues for both countries — economic ones, tourism, as well as Syria. The possible delivery of Russian S-400 air defense missile systems to Turkey will be on the agenda in Sochi. Our talks on the issue are continuing, I think that the meeting in Sochi will give a new impetus to this."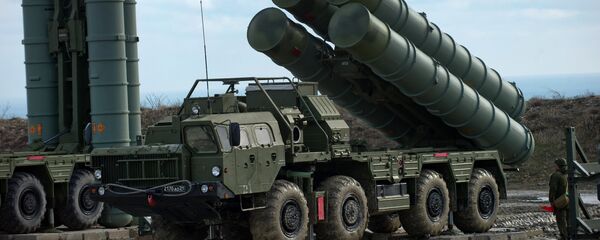 Earlier in April, he said the
talks with Russia on the S-400
had entered the final stage.
On March 14, Russia's Rostec Corporation's CEO Sergey Chemezov said Turkey was ready to buy S-400 from Russia on a loan granted by Moscow.
The S-400 Triumph is Russia's next-generation mobile surface-to-air missile system carrying three different types of missiles capable of destroying aerial targets at a short-to-extremely-long range. It integrates a multifunctional radar, autonomous detection and targeting systems, anti-aircraft missile systems, launchers, and a command and control center.
© Sputnik
The S-400 Triumf Mobile Multiple Anti-Aircraft Missile System (AAMS)

The S-400 Triumf Mobile Multiple Anti-Aircraft Missile System (AAMS)