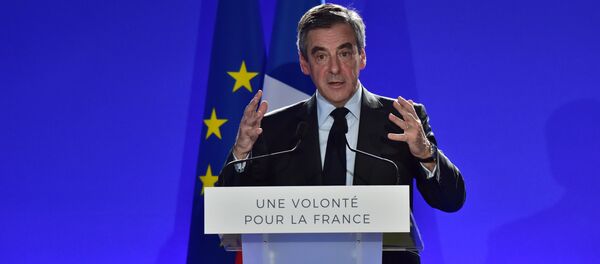 MOSCOW (Sputnik) — On Sunday, the first round of the presidential election took place with independent Emmanuel
Macron receiving 23.75 percent
, and Marine Le Pen, the leader of the National Front party, coming in second with 21.53 percent. Fillon was in the third place with 19.91 percent and therefore did not qualify for the run-off.
"This fight is in your hands from now on. I have no right to fight with you anymore," Fillon said in front of the leaders of The Republicans, as quoted by the BFMTV broadcaster.
Fillon reportedly added that he would have to rethink his life, help his family recover.
In late January, a scandal broke out around Fillon possibly employing his wife and two children within parliament and the amount of work done by them was questioned by the media and investigators. The scandal largely overshadowed Fillon's presidential campaign.
The legislative elections will be held in France in June.