MOSCOW (Sputnik) — Lavrov said that at the same time Russia is ready to fully implement its part of the Minsk deal as a guarantor.
"At the same time, we are ready to fully cover our part of the path as guarantors of these agreements and will exert influence on Lugansk and Donetsk so that they had a counter-motion when Kiev finally resumes, or even begins, to fulfill its obligations," Lavrov said.
"I expect that our colleagues from the European Union in their work with the government of Ukraine will seek the strict implementation of the Minsk agreements," Lavrov said at a briefing following talks with EU foreign policy chief Federica Mogherini.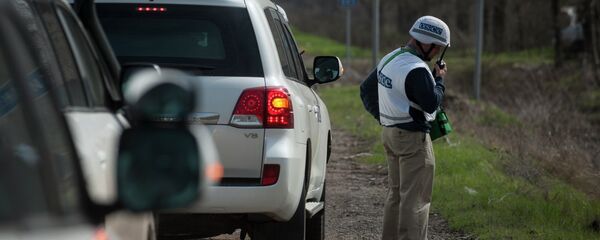 Meanwhile, Mogherini stressed that full implementation of the Minsk deal by all sides is paramount, especially in light of the recent explosion in the Lugansk region that
hit a car of OSCE Special Monitoring Mission
(SMM) to Ukraine in Donbass.
"There are some issues of disagreement. We are open and frank about it. We certainly have a different assessment of the conflict in Ukraine," Mogherini said.
Nevertheless, both sides are determined that "full implementation by Minsk agreements by all sides" is needed, she added. "It is even more urgent after the death of an OSCE worker," Mogherini said.
On Sunday, a OSCE car blew up on the territory controlled by the self-proclaimed Lugansk People's Republic (LPR), killing a British OSCE staff member and injuring a German staff member. According to the current OSCE chairman, Sebastian Kurz, the car exploded due to a mine on its way. According to the LPR, the car deviated from the route it was supposed to follow. Later, the LPR's head urged the OSCE to coordinate routes its monitors' cars are chosing to avoid similar incidents.