WASHINGTON (Sputnik) — Between 1915-1923, more than 1.5 million Armenians living in the Ottoman Empire and then Turkey were killed, pressed into labor or deported on death marches.
"Today, we remember and honor the memory of those who suffered during the Meds Yeghern, one of the worst mass atrocities of the 20th century," Trump stated.
Trump used the term "Mads Yegern" to describe the event, an Armenian phrase also used by former President Barack Obama that translates to "great calamity."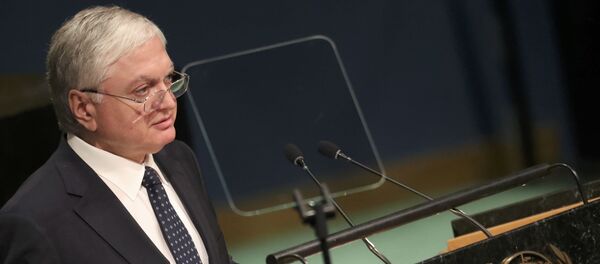 14 October 2016, 17:03 GMT
On Friday, US Senator Edward Markey called for Trump to use the word "genocide" and unequivocally affirm the atrocity.
In 1981, former President Ronald Reagan recognized the Armenian genocide, but subsequent US leaders have not, due to concerns over alienating Turkey.
Trump said the United States welcomed efforts by Armenians and Turks to "acknowledge and reckon with painful history" as a step toward reconciliation.
The government of Turkey maintains that genocide is an inaccurate term for the mass killings and does not recognize the Armenian genocide as an event.