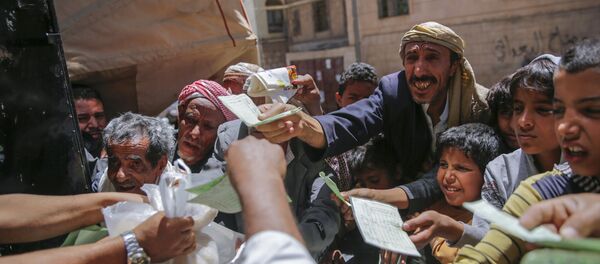 GENEVA (Sputnik)
–
The European Union will allocate 116 million euros ($126.7 million) toward humanitarian relief efforts in Yemen, which has been embattled from an ongoing civil war for over two years, European Commissioner for Humanitarian Aid and Crisis Management Christos Stylianides said Tuesday.
"The EU stands in solidarity with the Yemeni population. It is with a strong sense of duty that I am announcing today One Hundred and Sixteen (116) million Euros for Yemen in EU support. The EU has been providing support to Yemen before the conflict. We are ready to assist Yemen after the conflict," Stylianides said at an aid-pledging conference in Geneva.
Stylianides also called for a political solution to the Yemeni conflict and expressed his support for an "informal dialogue among Yemeni actors."
Since 2014, Yemen has been engulfed in a military conflict between the internationally recognized government of President Abdrabbuh Mansour Hadi and Houthi rebels supported by forces loyal to former President Ali Abdullah Saleh.
The Saudi-led coalition of Arab states started a military campaign to defeat the rebels and restore the legitimate government in 2015.
The UN Office for Coordination of Humanitarian Affairs (OCHA) characterizes the situation in Yemen as "the largest humanitarian crisis in the world" with 18.8 million people in need of humanitarian or defense assistance, including 10.3 million who require immediate aid to save or sustain their lives.
Never miss a story again — sign up to our Telegram channel and we'll keep you up to speed!