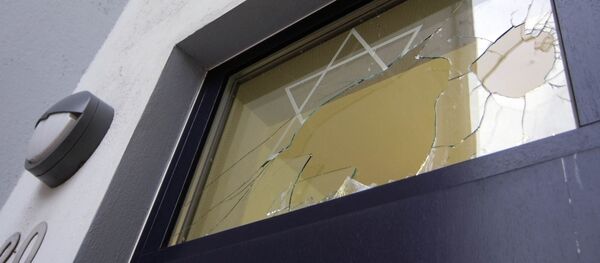 Germany's largest supplier of military technology, Rheinmetall, is in talks with the Turkish authorities about building an arms factory in Turkey that will produce Panzers and other equipment for the Turkish army, the German newspaper
Die Zeit reports
.
A source told the newspaper that the Turkish army wants to increase the anti-missile protection of its Leopard 2A4 tanks, which have suffered significant damage in anti-Daesh operations in Syria.
Turkey wants the new factory to "upgrade older Leopard 2A4 tanks, which came from the Bundeswehr, with protective equipment that increases the safety of the crew," a source told Die Zeit.
The Rheinmetall Group made €2,946 million in defense sales last year, a 14 percent increase over its 2015 revenue. Rheinmetall Defense produces weapons, ammunition and armored vehicle systems including the Leopard battle tank, the Puma infantry fighting vehicle and the PzH 2000 self-propelled howitzer.
© AP Photo / Michael Sohn
Panzerhaubitze 2000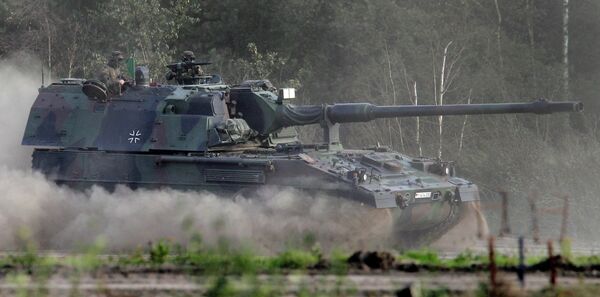 Panzerhaubitze 2000
© AP Photo / Michael Sohn
It bills itself as "a longstanding partner of the armed forces of Germany, its NATO allies and other likeminded nations."
The company, which has already increased its presence in "NATO partner country Turkey," a spokesman said, with the creation of a Turkish subsidiary, Rhinemetall Defense Turkey. 
At the International Defense Industry Fair in Ankara in May 2015, Rheinmetall signed a memorandum of understanding on a joint venture with Turkish arms supplier MKEK to produce weapon systems and ammunition.
In addition, Rhinemetall also has a 90 percent stake in Turkish firm Atel Technology and Defense Industry and a 40 percent stake in defense and transportation firm BMC. 
© Flickr / Katzennase
GTK Boxer Command Post (GE)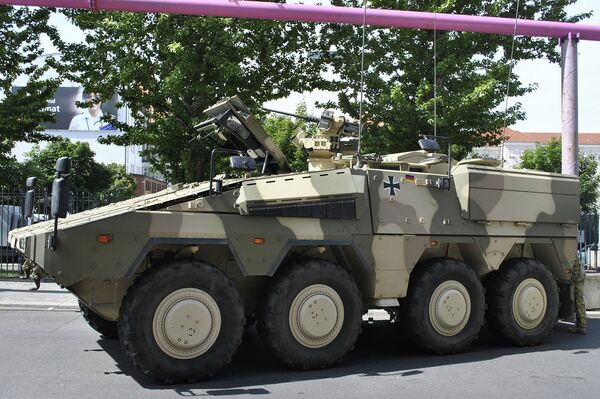 GTK Boxer Command Post (GE)
According to German research center Correctiv, "The owner of Rheinmetall's Turkish partner company BMC is the former journalist and die-hard Erdogan supporter Ethem Sancak. He was able to acquire BMC from the state in 2014."
While the German government remains tight-lipped on Rheinmetall's plans for expansion in Turkey, opposition groups have spoken out in opposition of the move. 
The Greens, which tabled a parliamentary question on the matter, accuse the government of allowing Rheinmetall to move production abroad in order to get around Germany's regulations on arms exports.
The Ministry for Economic Affairs and Energy replied that "the federal government has held no concrete talks regarding the participation of Rheinmetall in tank construction in Turkey."
© Photo : Wikipedia/Sonaz
Puma armored infantry carrier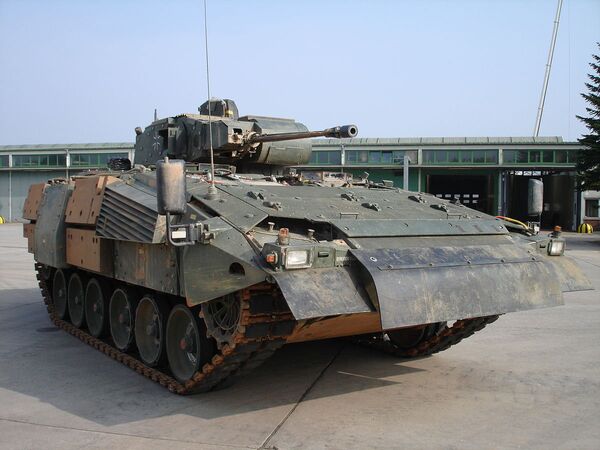 Puma armored infantry carrier
© Photo : Wikipedia/Sonaz
Left Party spokesman Jan van Aken called the construction of a factory to build German weapons in Turkey "a real scandal."
"The government is watching a loophole being used here for the export of know-how, this is a real scandal," he said. "If such cooperative transactions are legal, that shows that the German armament export control is a bad joke."
The Berlin-based pressure group Facing Finance told Die Zeit that building the factory would be hypocritical given Germany's criticism of Turkey's crackdown on dissent following a failed military coup last July.
"Turkish military tanks are already being used against Kurdish minorities and civilian protestors. This approach indicates what Rheinmetall's weapons will be used in the future," the group said.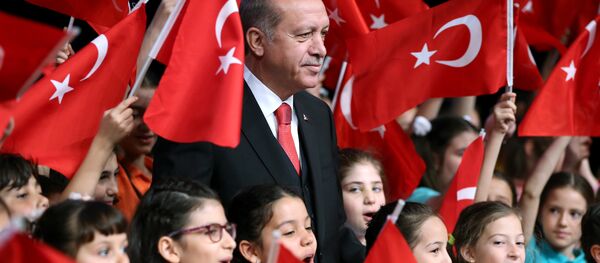 Last month, Rheinmetall CEO Armin Papperger told the
Tagespiegel
newspaper that the Turkish government was keen for defense manufacturing to move to Turkey.
"Contractors are not politicians. The Turkish government wants us not only to deliver to Turkey but also to produce something in Turkey," Rheinmetall CEO Armin Papperger told the Tagespiegel newspaper last month.
"We started the planning more than two years ago, but we are not producing anything there yet. This concerns two areas, vehicle systems and ammunition," Papperger explained.
Never miss a story again — sign up to our Telegram channel and we'll keep you up to speed!