A US federal air marshal who left her weapon in the toilet of a Delta Airlines flight from England to the US was surprised to have the gun returned to her by members of the flight crew after a passenger on board discovered and quickly returned it.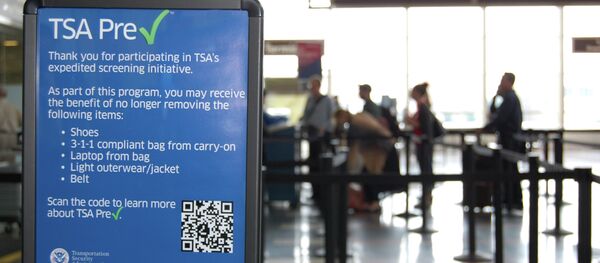 The marshal, who has not been named, did not report the malfeasance to her superiors for a period of several days, during which she traveled on many other flights.
A retired air marshal, noting the danger introduced by the incident, said "You can't have inept people leaving weapons in a lavatory. If someone with ill intent gets hold of that weapon on an aircraft, they are now armed," according to the Economist.
It is not the first time a federal air marshal has left a handgun in an airplane toilet, though calls for limiting the scope of the branch's mission have not resulted in significant changes.
Air marshals, a branch of the widely unpopular US Transportation Security Administration (TSA), number in the thousands, although the TSA does not disclose exact figures.
Since their implementation in 1962, a weapon has been fired by an active duty air marshal only once, in 2005, while the aircraft was on the ground. In that incident, agents shot and killed a man who ran away from them, mistakenly believing that he had a bomb.
The risk of collateral damage due to the presence of firearms on an aircraft is well documented. The close proximity of passengers and crew, the thin walls of the pressurized aircraft cabin, and the inherent fallibility of human judgement under pressure — even among those who are highly trained — all contribute to a likelihood of unwanted and tragic consequences.
Federal air marshals are said to have some of the highest levels of training of any law enforcement branch in the country, and carry weapons up to.357 caliber. Weapon size is capped to limit the possibility of a hull breach at altitude, as the chances of a misstep are noted to be potentially fatal.
The effectiveness of the US Federal Air Marshal program has been called into question, notably by House Representative John Duncan (R-TN), who observed that the annual average of 4.2 air marshal arrests brought the cost of each arrest to some $200 million, based on the branch's budget.
Duncan observed that money spent on the US federal air marshal program supports the perception of terror, and increases a reliance on a for-profit approach to security in the US, instead of asserting budgeting priorities based on reality.
The air marshal who left her gun on board the New York flight, reportedly a recent hire, has not been disciplined, and the TSA has not revealed whether she will be disciplined and what form that discipline may take. According to reports, she was returned to her duties just days after finally reporting the incident.