"We have to do all we can right now to mobilize the peace movement," Will Griffin, an organizer of the US-based Stop THAAD in Korea and US Militarism in Asia and Pacific, told Sputnik's Loud & Clear. "This is unprecedented."
Fresh off the heels of a two-week, public-funded recess, all 100 senators have been requested at the White House for a briefing on the unfolding events on the Korean Peninsula. Secretary of State Rex Tillerson, Defense Secretary James Mattis, Director of National Intelligence Dan Coats and Chairman of the Joint Chiefs of Staff Gen. Joseph Dunford were all slated to join the briefing, a White House spokesman said Tuesday. 
​"All the threats of war against North Korea, going back to George Bush's 'evil empire' … It continued through Obama's escalating war games, and Trump's escalating war games," Griffin explained. 
Throw in Trump's verbal threats to "solve" the North Korean "problem" and aggressive rhetoric from the president's inner-circle — such as when Vice President Mike Pence said the US would end a policy of strategic patience — and the US appears to be inching closer to a serious armed conflict that could escalate and rope in other global players very quickly. 
In addition to sharing a border with South Korea, the Democratic People's Republic of Korea has a 17-km land border and a 22-km maritime border with Russia. 
"I think we're at a very serious stage. That's why we called for a protest at 2:00 on Wednesday at the White House, so senators can see people outside saying 'No' to war with North Korea," Griffin added. 
Indeed, on Monday, the US and South Korea expressed that no more missile or nuclear tests would be tolerated, comments that suggest tensions could literally blow up into all-out war at any moment. "Pence wanted to deliver the message to North Korea that it would use every means, including military ones, to crack down on its nuclear and related facilities," Liu Weidong, a researcher at the Institute of American Studies of the China Academy of Social Sciences, told the Global Times.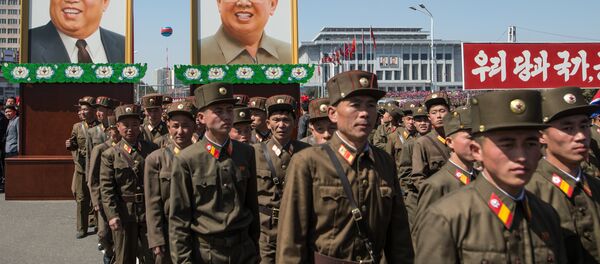 While the sabre-rattlers keep up their pretences and rhetoric, Beijing has taken a more diplomatic approach to North Korea, with a tone that warns strongly against violence in the region. An op-ed in Tuesday's Global Times, a Chinese news outlet, said Pyongyang should heed the call not to "pass the point of no return."
The Global Times attempted to proffer plausible deniability about Beijing's ability to influence the events on the Korean Peninsula. Beijing has "very limited influence on the entire situation," the op-ed stated, adding "the game of chicken between Washington and Pyongyang has come to a breaking point."