MOSCOW (Sputnik) — The Organization for Security and Co-operation in Europe (OSCE) is already in the process of probing a deadly explosion in Ukraine's Lugansk region, Secretary General Lamberto Zannier said Tuesday.
"In the context of our cooperation in Ukraine, I again assure you that we've already started acting on investigation [of OSCE Special Monitoring Mission car detonations]," Zannier said during a meeting with Russian Foreign Minister Sergei Lavrov in Moscow.
On Sunday, law enforcement officials of the Lugansk People's Republic (LPR) said the explosion hit the observers' car near the Pryshyb settlement in the Lugansk region and, as a result, one SMM member was killed. Later in the day, OSCE Principal Deputy Chief Monitor Alexander Hug confirmed the explosion, adding that the blast killed a US citizen and injured two more people from Germany and the Czech Republic.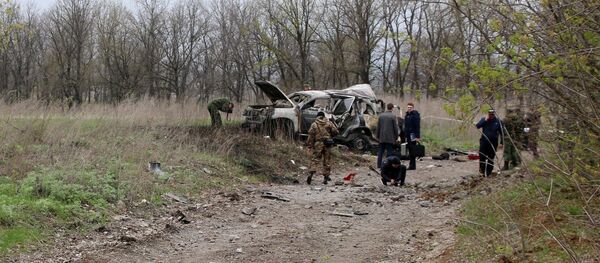 The Donbass conflict erupted in April 2014 as a local counter-reaction to the West-sponsored Maidan coup in Kiev that had toppled President
Viktor Yanukovych
in February. Residents of the Donetsk and Lugansk regions held independence referendums and proclaimed the People's Republics of Donetsk and Lugansk. Kiev has since been conducting a military operation, encountering stiff local resistance.
In February 2015, Kiev forces and Donbass independence supporters signed a peace agreement in the Belarusian capital of Minsk. The deal stipulates a full ceasefire, weapons withdrawal from the line of contact in Donbass, as well as constitutional reforms that would give a special status to the Donetsk and Lugansk People's Republics. Despite the agreement brokered by the Normandy Four states (Russia, France, Germany and Ukraine), the ceasefire regime is regularly violated, with both sides accusing each other of multiple breaches, undermining the terms of the accord.