ANKARA(Sputnik) — The General Staff of the Turkish Armed Forces said on Tuesday that about 70 Kurdish fighters were killed as a result of the airstrikes in northeast of Syria and north of Iraq.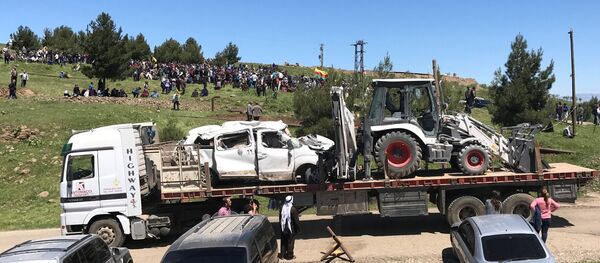 Earlier in the day, the Syrian Kurdish People's Protection Units (YPG), which is the Syria's Kurdish Democratic Union Party's (PYD) military branch, said Turkish planes had attacked its headquarters in northeastern Syria near the town of Derik in the Qerecox mountains. Kurdish media also said Iraq's town of Sinjar was hit by Turkish jets, and that over a dozen Peshmerga troops were killed. Turkey was said to have targeted a Kurdistan Workers' Party (PKK) base in the region.
"According to the received intelligence, ammunition depots, communication points and shelters for the members of the separatist terrorist organization [PKK] were destroyed during the air raid. About 40 terrorists were killed in the Sinjar area in Iraq, about 30 in the Qerecox area in north-eastern Syria. Terrorists suffered significant damage, their morale is suppressed," the General Staff said.
Ankara considers the PYD to be affiliated with the PKK, which is listed as a terror group in Turkey, the United States and the European Union. However, the PYD and the YPG, as well as the Kurdish-led Syrian Democratic Forces (SDF) have been receiving support from the United States in fighting the Islamic State terror group (outlawed in Russia) in northern Syria.