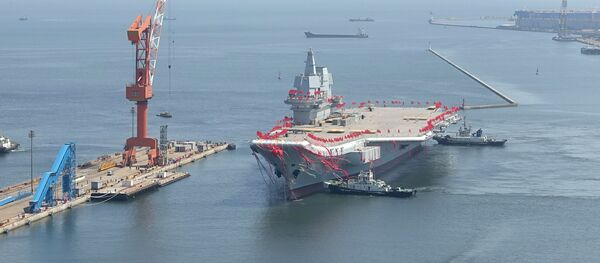 In an interview with Sputnik, Russian political analyst Vladimir Kolotov cast doubt on Beijing's reports about the unveiling of China's first domestically-made aircraft carrier, given that the Type 001A is little more than a continuation of the development of the Soviet carrier project.
On Tuesday, Chinese media reported that China had launched what it touted as its first domestically-made aircraft carrier, the Type 001A.
The carrier, measuring 315 meters in length and 75 meters in width, displaces 70,000 tons of water. The ship was constructed at the Dalian Shipyard, a port in northern China's Liaoning province, which shares a border with North Korea.
In the past couple of years, China's navy has transformed from a small fleet into a formidable force aimed at gaining dominance in the Pacific.
In the 1990s, Beijing launched several projects to design and construct advanced submarines, destroyers, frigates and corvettes.
In 2012, China's first aircraft carrier, the Liaoning, was commissioned. The ship was originally laid down as a Soviet multirole aircraft carrier under the name Riga and then Varyag. China bought it from Ukraine for 25 million dollars and at the time it was already 60 percent complete.
Currently, Beijing is developing its own aircraft carrier program. By 2020, the Chinese naval forces are expected to receive several domestically-built aircraft carriers.
Speaking to Sputnik, Vladimir Kolotov said that it would be irrelevant to describe the Type 001A as China's first domestically-made aircraft carrier.
"This is our project, according to which the Russian aircraft carrier Admiral Kuznetsov was created. As for the Chinese carrier, it was slightly modernized and a number of flaws were fixed, according to Beijing. This is understandable because the project was launched in the 1980s and plenty of time has passed since then," he said. 
According to Kolotov, "the Chinese, of course, are trying to create their own such vessel on this basis given that the Chinese industry, including electronic and military sectors, already allows them to implement such ambitious tasks."
"China has substantially upgraded its military and industrial complex… and they have a very ambitious program, according to which by, 2021, Beijing is due to create a third aircraft carrier all by itself," he added.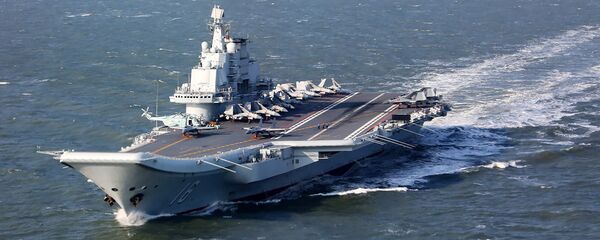 In November 2016, the Liaoning for the first time carried out live-fire drills, in a sign that the People's Liberation Army Navy (PLAN) has been aggressive in pursuing a larger and more assertive fleet.
The two aircraft carriers could be a small sign of things to come for the ambitious Chinese navy.
Some analysts suspect PLAN is pursuing a fleet of more than 500 vessels, including subs, carriers, destroyers, amphibious vehicles, frigates and other naval hardware, according to media reports.
Never miss a story again — sign up to our Telegram channel and we'll keep you up to speed!